5 Reasons Organizations Should Use Bid Beacon to Manage Their Silent Auctions
2018-07-24 15:28:10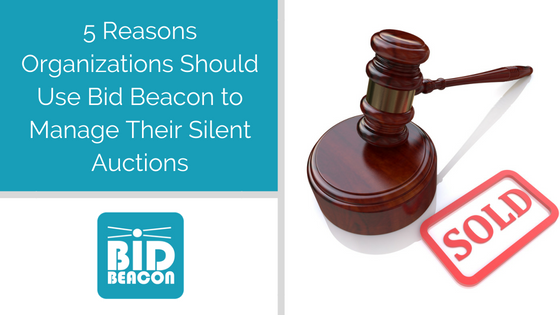 Enjoy an easy, seamless fundraising experience with our user-friendly silent auction software!
Hosting a silent auction can be a fatiguing and challenging experience. There are so many details that need to be managed, organized, and overseen in order to ensure your event goes off without a hitch. Yet, when executed well, an auction can be a lucrative fundraising initiative that greatly benefits your charity and the cause you support.
Unfortunately, many executives aren't aware that there are cost-effective, easy-to-implement solutions to their silent auction woes.
At Bid Beacon, we recognized the need for a simple, convenient silent auction software that Organization organizations could utilize to uncomplicate their fundraising initiatives.
But how, exactly, does our online auction platform streamline your event? Keep reading to learn more!
BELOW ARE THE TOP FIVE REASONS ALL ORGANIZATIONS SHOULD BE USING BIG BEACON TO MANAGE THEIR SILENT AUCTION FUNDRAISERS:
FLAT RATE PRICING
At Bid Beacon, we understand that organizations rarely have expendable cash to spend on auction management software, and can't afford to lose a percentage off the top of every item that is up for bidding. That's why we offer a budget-friendly flat rate, based on how many items will be included in your auction.
You never have to worry about hidden fees or losing a percentage of your sales. The money you make from your auction is 100 percent yours to keep!
MULTI-DEVICE CONVENIENCE
Many online auction platforms are limited in their accessibility. Some are only available via a web browsers, while some are compatible with Windows, but not Mac, or vice versa. This makes set up and management trickier for charities, forcing them into a box.
At Bid Beacon, we do things a little differently. Our silent auction app is compatible with any smartphone or tablet (Android, Apple, or otherwise). This allows team members to manage all aspects of a silent auction from where ever they are. It also allows your bidders to follow the items they're interested in, check where the bids stand, and place new bids, all from their mobile device.
EASE OF SET-UP
Traditionally, auction organizers have scrambled before their event to print bidding sheets, sort their auction items, and manage the flow of their event. But with our silent auction app, your entire fundraising event is a simple tap away!
Add photos of items, set minimum bidding prices, and inform bidders of when their item is about to expire, all from the convenience of your tablet or mobile device!
There's no need to worry about tracking down paperwork or keeping an eye on your auction bid sheets. With Bid Beacon, your event will be completely automated, from check-in to the final tally of funds raised.
SPONSOR RECOGNITION
Without sponsors, most organizations would be much more limited in their ability to put off events and engage in other initiatives. Sponsors provide charities with the financial resources required to share their message and continue with the important work they do every day.
Bid Beacon gives NPOs the opportunity to honour sponsors by including their company logos directly within the app, where guests and users are sure to see them.
It's just one more way our silent auction software was designed to meet the unique needs of each organization.
INCREASED ENGAGEMENT
Are you aware that silent auctions conducted with mobile bidding result in 3X as many donations?
This is because guests don't have to physically patrol paper bidding sheets in order to remain the highest bidder!
Instead, your guests can watch their favourite items from their seats. Bid Beacon will actually send your guest a notification when they've been outbid, immediately informing them and allowing them to counter-bid to solidify their chances of winning.
This means increased engagement and higher final bids for you, the charitable organization.
Pretty amazing, right?
If you are still hosting your auctions the old fashioned way, it's time to step into the modern day world of auction management software. You'll be amazed at the difference it'll make for your next event!
Interested in trying Bid Beacon for your next fundraiser? Check out our affordable pricing options or contact us today!