Important!
Admin functionality is not available in the downloaded app. You must access Bid Beacon via web browser on any device to edit, create, or manage your event.
A step-by-step guide on how to create an online marketplace in Bid Beacon.
Step 1 - Register and Login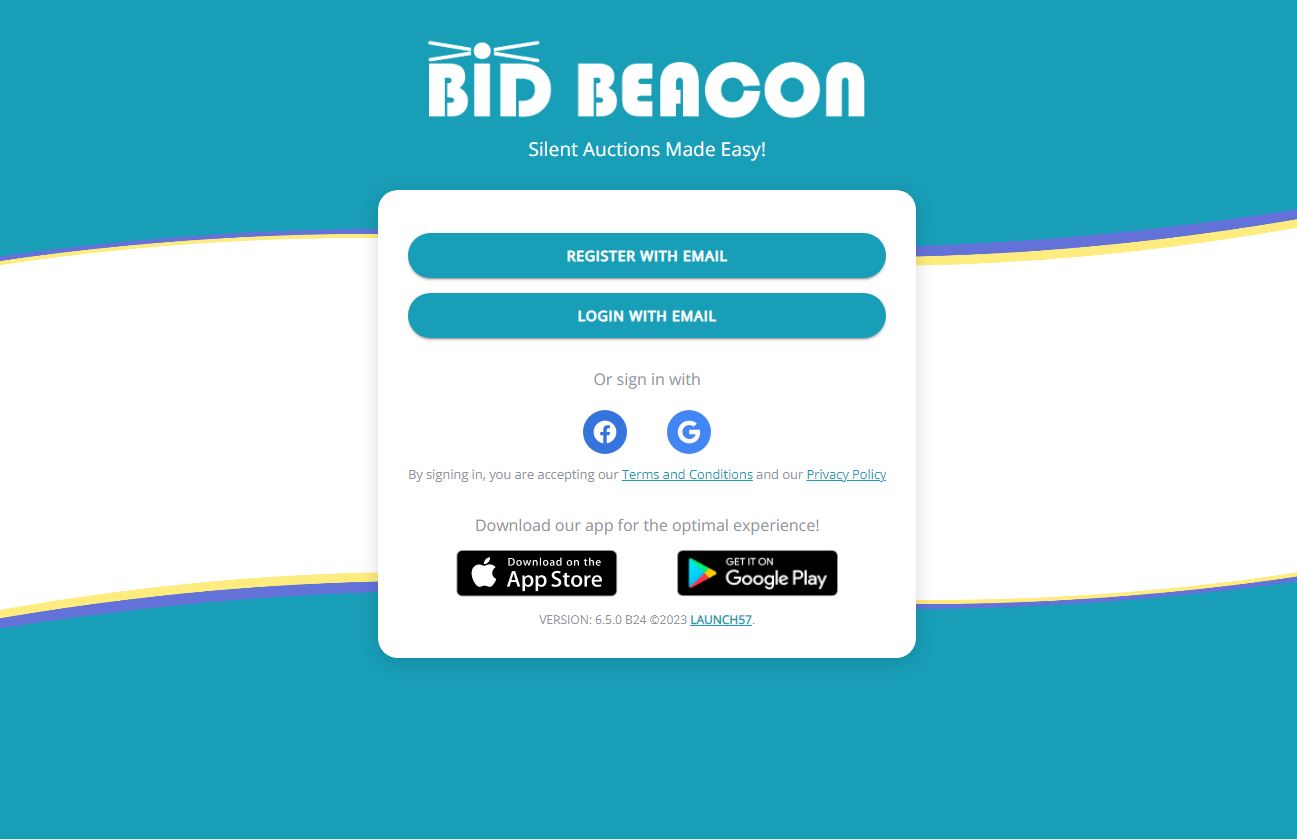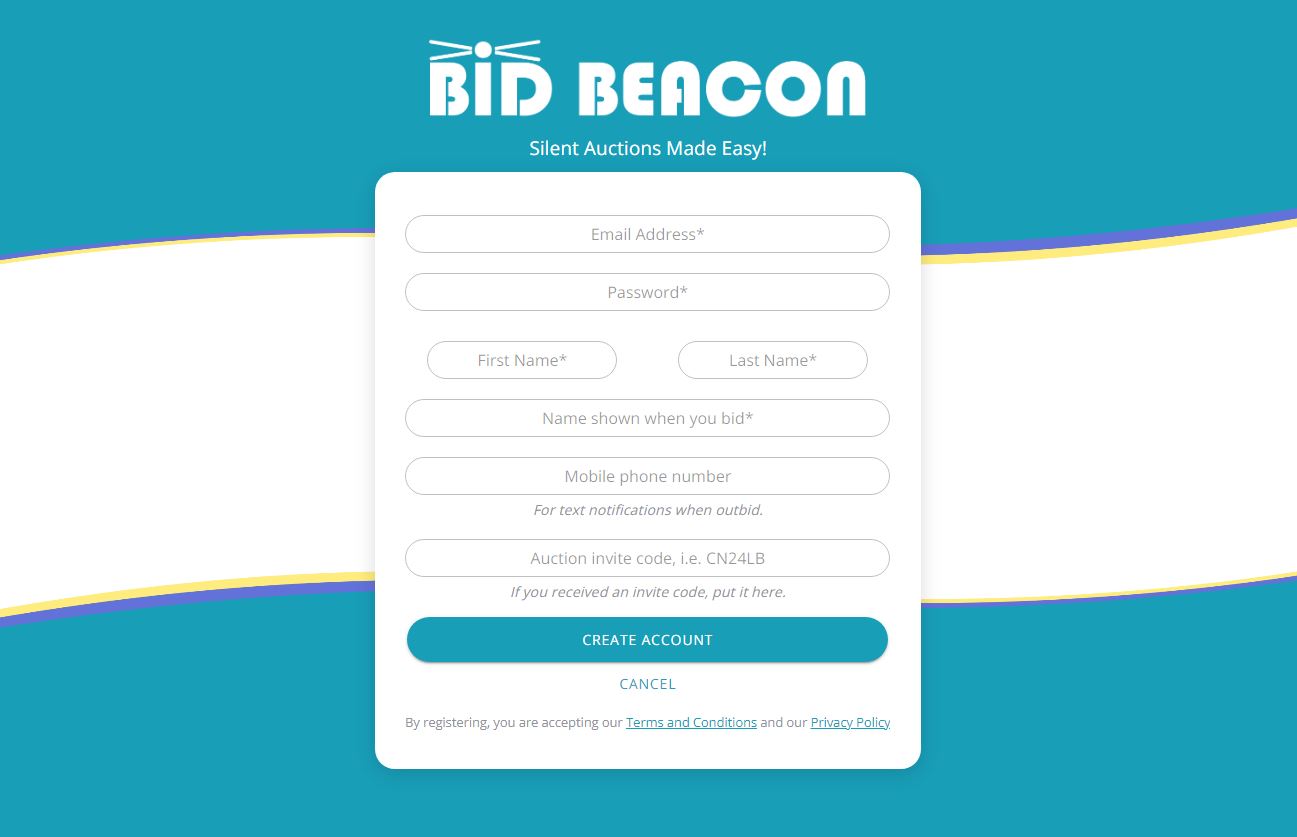 Admin access to Bid Beacon is only available on a web browser from any device (phone, tablet, computer).
The downloadable app is great for guests but can not be used to access the Admin Dashboard or create a marketplace.
Admins and guests create accounts the exact same way. Go to app.bidbeacon.com and Register With Email, or sign in using an existing Facebook, Google, or Apple account (if on iOS).
If on a mobile or tablet device and you want to manage your marketplace, use the following link: web.bidbeacon.com
If registering with an email, fill in the following details:
Email Address: Used as your log in and for communications about your marketplace.
Password: Can be changed later if you forgot or mistyped
First Name: Your first name
Last Name: Your last name
Display Name: Can be a version of your name, or something more unique
Mobile Phone Number: Optional, if used you will receive text message notifications related to the marketplace 
Access Code: Leave blank for now. Access codes are a way for guests to register and quickly join your marketplace
Click Create Account
Step 2 - Create Marketplace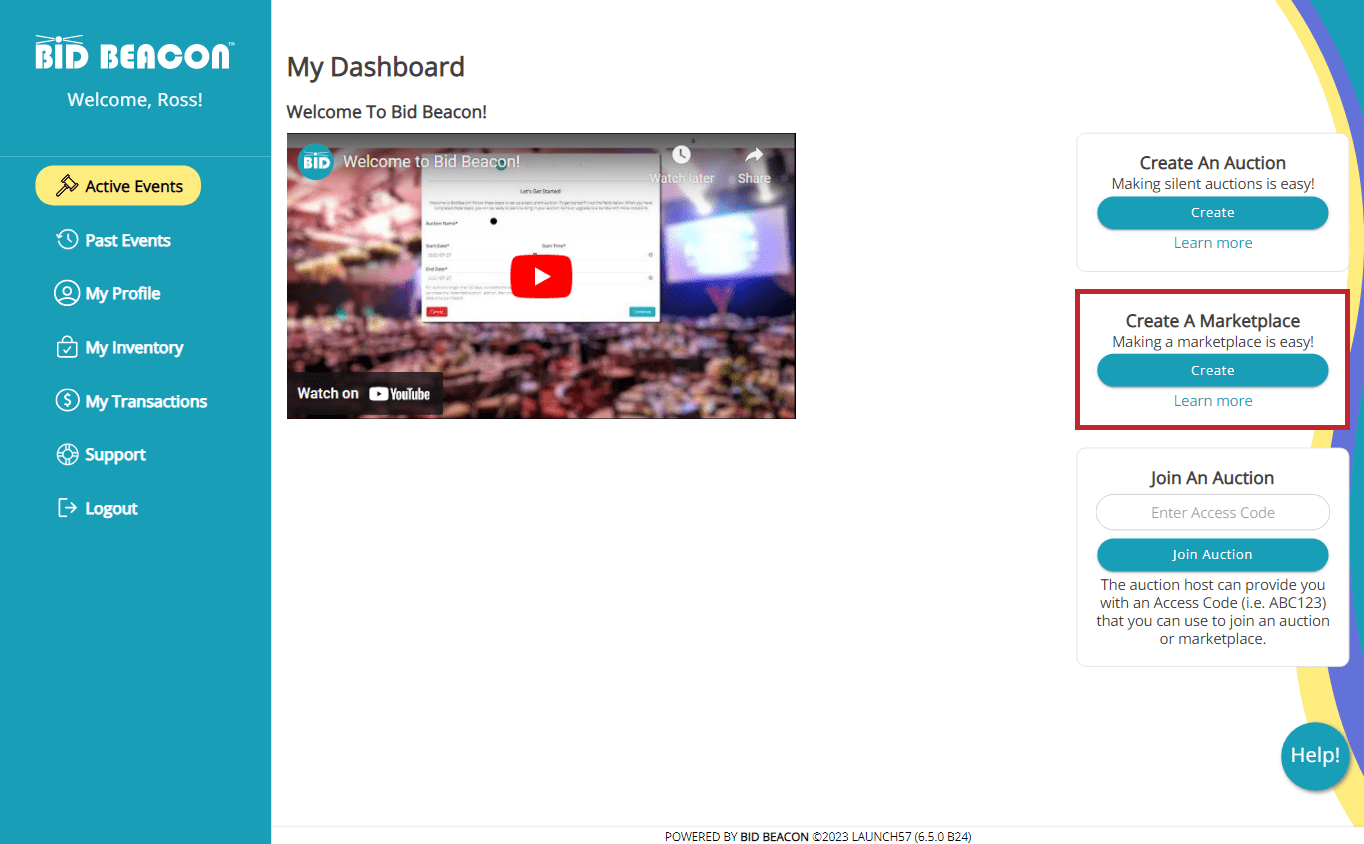 To start, under Create A Marketplace, click the Create button. Follow the
steps from the setup wizard to set up a basic marketplace. Details provided within the
wizard can be changed later in the Marketplace Dashboard.
Step 1:
Let's Get Started
Step 2:
Organization Details
Step 3:
Review
Step 1:
Let's Get Started
Marketplace Name
Choose a name that relates to your brand and the products that you plan to offer.
Step 2:
Organization Details
Step 3:
Review
Step 3 - Enter Your Details
From your marketplace dashboard, work through each of the tabs on the left side menu.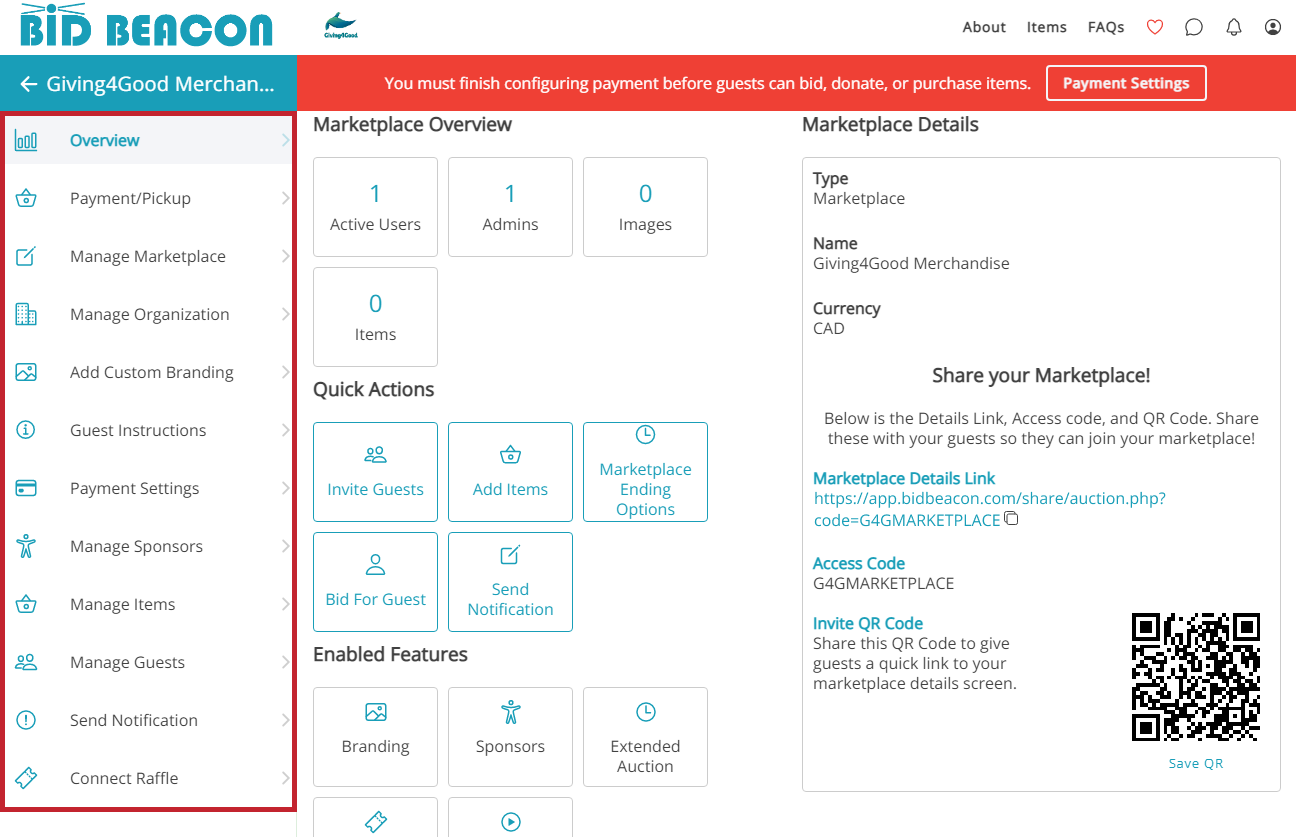 Quick Actions take you to pages you'll frequent more often, but all screens have important info you need to fill out to get the most out of your marketplace.
All premium and additional features are included with Bid Beacon Marketplaces.
Bid Beacon's Premium Features
Custom Branding
Manage Sponsors
Payment Settings
And More
Custom Branding
Change the marketplace color theme, add a banner image, customize the link/access code, and add your logo to the header.
Manage Sponsors
Payment Settings
And More
Bid Beacon's Additional Features
Making Admins Lives Easier
Ways to Raise More
Increase Sales Activity
A Unique Guest Experience
Making Admins Lives Easier
Copy From Past Events: copy over your organization details, past items, past payment setup, and even past guests
Multi-Currency Support: run your marketplace in CAD, USD, GBP, EUR, AUD and NZD
Support by Email: we're here to help at [email protected]
Invoice & Receipt Generation: this is automatic once purchases have been made
Ways to Raise More
Increase Sales Activity
A Unique Guest Experience
Step 4 - Payment Settings
From the Overview screen, click on Payment Settings to set up express banking through Stripe Connect. This is a pretty important step – so much so it has its own guide!
Step 5 - Add Items, Categories & Taxes or fees
You can't run a marketplace without any items. From the Overview screen, click on Manage Items.
From here, we can create new or manage existing items, categories and add taxes or fees to items if necessary.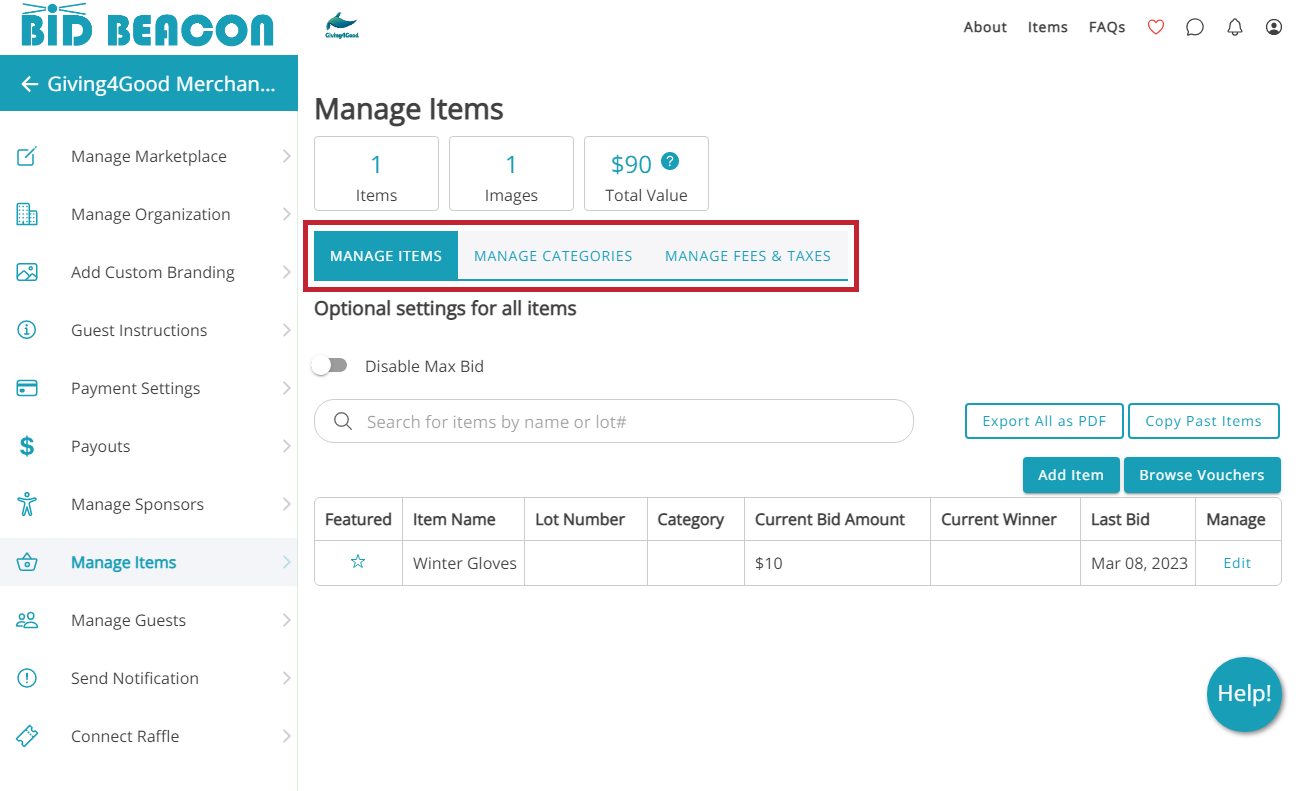 Manage Items
Manage Categories
Manage Taxes & Fees
Manage Items
You have the option to create 5 types of items:
Buy It Now – most of the time, your marketplace will use Buy It Now items. This item type is perfect for selling merchandise, tickets, or anything with a set price and limited quantity.
Donation – this is for if you want to collect donations with no item attached.
Bid Items – rather than setting a fixed price on a item, set a starting bid and increment to watch the price grow as guests place bids.
Blind Bid – these items require bidders to place their highest bid right off the bat. All bids are kept secret (even from admins), and at the end, the highest bidder takes the prize. If two tie, the highest bid placed first would win.
Live Item – used more for silent auctions that use Bid Beacon rather than marketplaces. Items auctioned off live at an event can be showcased within Bid Beacon, but bids are not placed within the app. The winner can be later invoiced for the item through the app.
For an in-depth guide on creating an item, check out the article Add Your Items.
Manage Categories
Manage Taxes & Fees
Step 6 - Share Your Marketplace
In addition to directly inviting your guests and network to join, be sure to share and promote your marketplace in a variety of ways.
On the Overview screen, check out the Share Your Marketplace! section.
The Marketplace Details Link is great for linking to buttons on websites, posting to your social media channels, or adding to emails.  
If your guests are familiar with the Bid Beacon app, sharing the Access Code is another way for them to quickly join your marketplace after logging in.
Click Save QR will download your marketplace's unique QR code which can then be added to printed materials like programs, digital media, and more.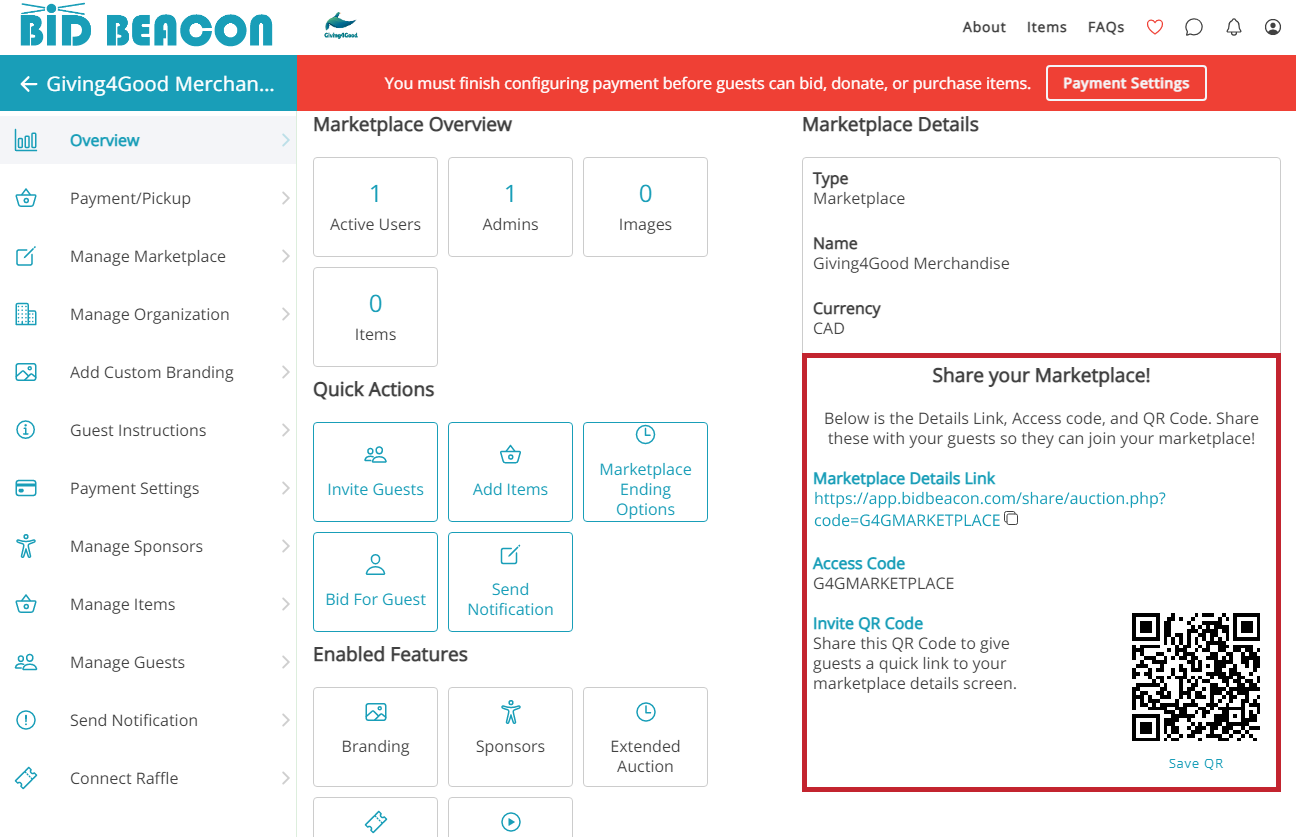 A few tips and tricks we've seen:
Each item has its own link that can be shared by clicking the Link icon next to the Chat Bubble and Heart icons. Sharing these links on social media will generate a detailed preview of the item and its image.
Invite guests from your last Bid Beacon event from the Manage Guests screen
Use Custom Notifications to promote new items, ongoing promotions, and more, all throughout the app.
Step 7 - During the Marketplace
While your marketplace is open, there are many things admins can do to help move things along.
Use the Payment/Pickup tab to manage items that have been paid for, and picked up by guests.
Use Notifications to create fun messages bringing people back into the app. Perfect if you add new items or have limited-time promotions on certain items
View progress and success in your reports with up to date information each time you export them
Share item links and promote on social media to maximize your marketplace's reach
What not to do while your marketplace is open:
Don't mess with the payment settings while the marketplace is ongoing. Some settings like "Require Immediate Payment for Donations and Buy Now Items" can't be changed once bids are placed
Don't end the marketplace if you're not truly ready for it to end as marketplaces cannot be reopened once closed
Don't change your organization country or province/state (unless you legit need to!) because that changes the currency of your marketplace
As items sell, admins and guests will receive various notifications:
Winners notifications
Non-Winners notifications
Admin notifications
Winners notifications
A push notification and text message will be sent to each winner letting them know they won one or more items and linking them to view their results.
An email will be sent to all winners listing what they've won. We also include the payment and pickup information you provided on the Guest Instructions screen in your dashboard.
Non-Winners notifications
Admin notifications
Step 8 - Managing Payments and Pick Up
As purchases are made, admins can track their own purchases, and the purchases of all guests.
On the Marketplace Results screen, guests will only see the Your Winnings tab. Admins will have access to view Your Winnings, as well as all items unpaid for (Unpaid), all items that have been paid for but not yet picked up/delivered (Pending Pickup), and then all the items that have been fully paid for and also picked up/delivered (Complete).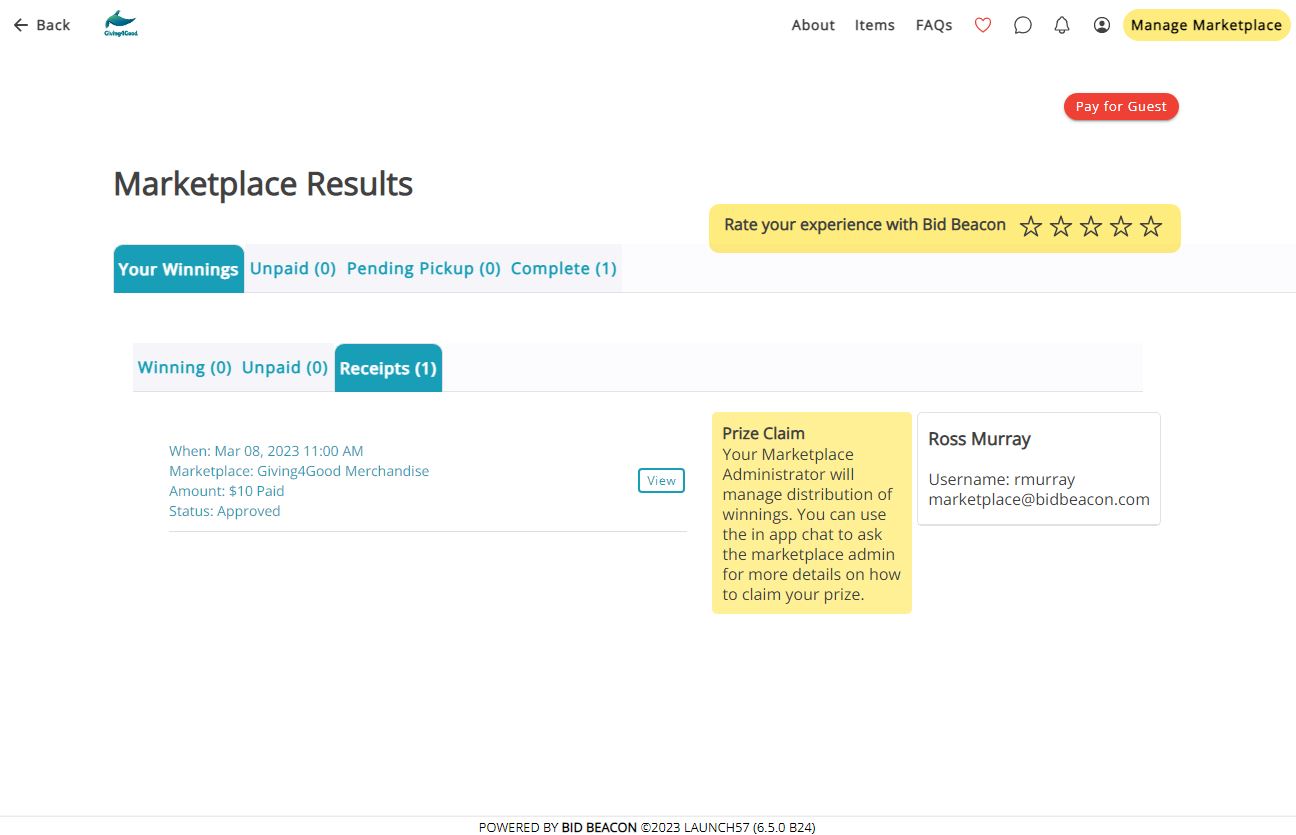 Your Winnings
Unpaid
Pending Pickup
Complete
Your Winnings
Every admin and guest will have the ability to view a Winning, Unpaid, and Receipts tab which shows the items you are winning, won but not paid for, and receipts for items that are fully paid for.
Prize Claim as written by marketplace admins on the Guest Information screen within the admin dashboard
An option to download their Invoice or Receipt. Invoice if unpaid, receipt once paid in full.
Unpaid
Pending Pickup
Complete
The great thing with Bid Beacon Marketplaces is that they can stay open indefinitely! In your dashboard, you will have an option to Close Marketplace, but this should only ever be done if you absolutely do not need a marketplace anymore.
Follow these steps to get started with Bid Beacon and create a silent auction.
Read More »
How to view auction results, export reports, and manage payments.
Read More »