Follow the steps below to set up your silent auction:
Important!
Admin functionality is not available in the downloaded app. You must access Bid Beacon via web browser on any device to edit, create or manage your auction.
Open the Bid Beacon app
If you're a new user, click Create Account and fill out the required fields
If you're a returning user, enter your login credentials and click Sign In
From the My Dashboard screen, click Create Auction
Step 1 - Let's Get Started!
Create an Auction Name that consists of letters, numbers and symbols
Set your Start/End Date and Start/End Time
Click Continue
Step 2 - Organization Details
Enter your Organization Name
Enter the Organizers Name
Enter the Organizers Email
From the dropdown, enter your Country
From the dropdown, enter your Province/State
Click Create Auction
Organization Details from a previous auction can be imported to your new auction. If you have one or more Organization Details listed, click on one to import.
If you want to create a new organization profile, click New Organization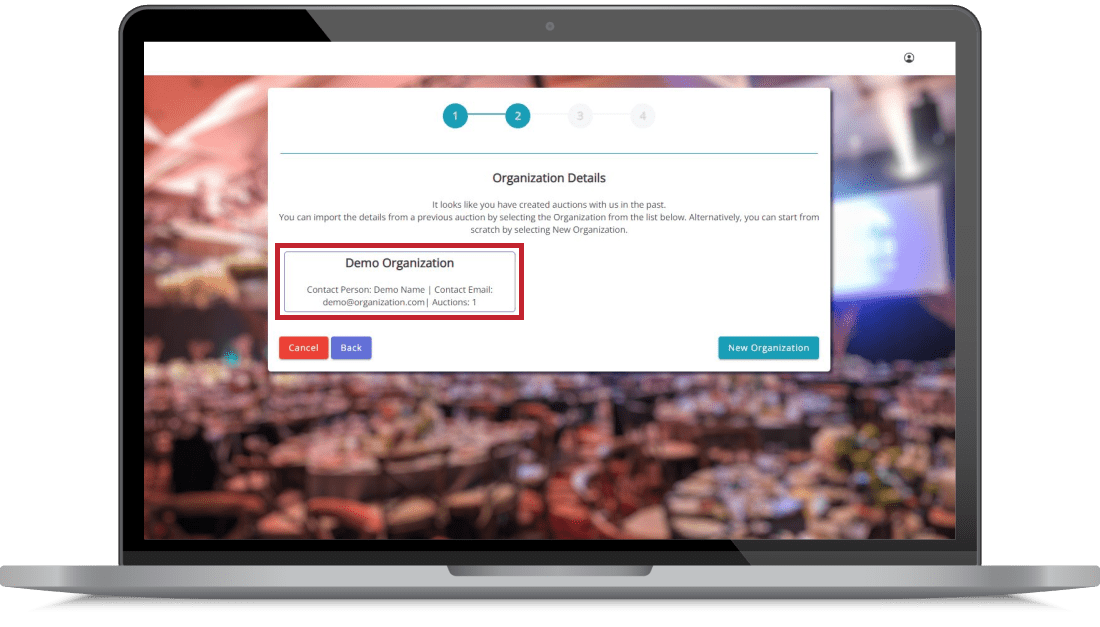 Step 3 - Purchase Your Auction Package
Input an estimated Number of Items, Number of Guests, and check off the applicable boxes to find out which Auction Package is right for you
Add Auction Packages and Upgrades to your shopping cart by clicking on Add To Cart
Once you're happy with your Auction Package, click Continue
Confirm your basic Auction Details
To edit any of the information provided in this setup wizard, click Edit Details
Once everything is confirmed, click Go To Dashboard
Congratulations! Your auction has now been successfully created!