Successful silent auctions depend on more than just the efforts of organizers and sponsors.
 You can choose the perfect venue and get tons of awesome donation items for your event—but you've also got to make sure people in the community know about it and are excited to participate. Of course, generating awareness of your upcoming silent auction among members of your chosen audience can be tricky, so we've come up with some tips that can help.
Here are 10 great ways to make your silent auction more visible and more appealing to the people you want to raise money from. With our help and Bid Beacon's tools at your disposal, you'll be able to count on holding silent auctions that make a real difference to your fundraising efforts.
Our Top 10 Silent Auction Awareness Builders
These run the gamut from digital marketing strategies (which are especially useful for virtual auctions) to initiatives that require boots on the ground in your local area (a must for in-person events). For best results, use as many of these suggestions as possible—and watch as the excitement surrounding your event begins to build.
Email remains an extraordinarily effective way to reach audiences—especially members of older generations, who are likely to have more disposable income than millennials or members of gen-z. In fact, nearly 75% of baby boomers think email is the most personal channel for communicating with organizations.
For best results here, make sure to build an email campaign with several segments and spread out your reminders over the months leading up to your event. This will give you numerous chances to convince recipients to register for your event, increasing the likelihood that they'll participate when it rolls around. Bid Beacon provides a custom link for your event that you can include in your emails to make registration easy as pie.
Email is far from the only way to reach potential auction attendees online. Facebook ads saw a 25% increase in the last quarter of 2020, which means they're still a very viable way to spread awareness about your event. And you can use Bid Beacon's custom link here too, so that anyone who clicks on your ad gets directed right to the registration page for your auction.
Many millennials and gen-z-ers have developed an aversion to facebook in recent years, but a lot of them have become more active on Instagram as a result. Instagram stories used to require you to have a certain number of followers before letting you add links to your story, but they've revised that in the past year and now accounts of every kind can add clickable links to the stories they post.
That means your organization has another easy place to put the custom Bid Beacon link for your event, no matter how large or small it is. Even new charities and grassroots organizations with extremely local followings can now use Instagram stories to make auction registration quick and easy.
This should be a no-brainer—but we're throwing it on the list anyway. Not only will you want to prominently display the custom link to your auction on your organization's website, but this is a golden opportunity to provide extra details about the event in a format not supported by social media or email.
Yes, you can—and should—put pictures of the venue or your donation items in an email (and ditto for Facebook ads or Instagram stories). However, most people tend to stop reading emails at a certain point if they're too long, and the limited space available on social media posts means there's only so much detail you can go into about why your event matters. A website, on the other hand, gives you complete freedom to describe your event as extravagantly as you want. Embed videos and other multimedia for extra "oomph".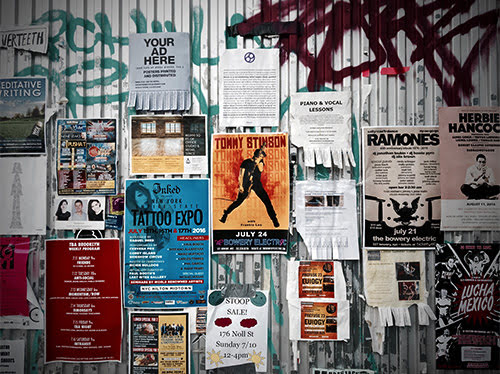 Of course, you've got plenty of options for increasing the visibility of your silent auction that aren't digital at all—and if you're having an in-person event for a geographically-specific audience, old-school marketing tactics are actually some of the best.
Local charities in many towns and cities still canvas busy neighborhoods where members of their target audience live and put up posters on telephone polls and community bulletin boards. But that doesn't mean you shouldn't still create your event online and allow people to register that way—Bid Beacon even provides a custom QR code for your link that you can put on posters, allowing people to register in seconds just by pointing their smartphone cameras at it.
Did you know that 70% of households with a combined income over $100,000 are newspaper readers? That should tell you everything you need to know about the effectiveness of print ads for reaching affluent community members.
Taking out an ad in your local paper is a fantastic way to reach people in your area with money to spend at fundraising events. For best results, run multiple ads several weeks apart from each other in the months leading up to your event (similar to what you'd do with an email marketing campaign).
Video didn't really kill the radio star, no matter what you may have heard. In fact, more than 92% of Americans over the age of 12 listen to the radio every week. Moreover, local radio ads have accounted for over half of all radio ad spending in the past decade or so, meaning that plenty of people in your area are still tuning in and steadfastly not touching that dial.
There's also no reason you can't use a radio ad to direct traffic to your online registration page. Just tell listeners to visit your website and click on the link that takes them to your event on Bid Beacon.
#8: Partnerships with Sponsors
You shouldn't have to do all the heavy lifting involved with promoting your silent auction by yourself. In fact, sponsors who donated items to your event should want to help promote it, since it's going to be good PR for them.
Don't frame it as asking your sponsors to market your event for you (after all, they're already donating items). But when they come on board, it's a smart idea to share your event link and QR code with them and give them full permission to use it in their own emails or social media posts.
#9: Community Influencers
If your event is targeting an audience with specific interests, finding community members who are prominent in those circles and encouraging them to promote the event is an excellent way to drum up interest. Local athletes, musicians, and even politicians (depending on your organization and its goals) can be extremely effective at spreading interest via word-of-mouth.
#10: Encourage Early Registration
No matter what other methods you use to promote your silent auction, you should always encourage your potential attendees to register early. The more momentum you can build behind your silent auction when it's still weeks (or even months) away, the harder it will be for anyone to ignore. And the easier you make it for guests to register, by including custom links to the online registration page wherever possible, the more likely you'll be to turn interested parties into participating bidders. For more information on how Bid Beacon can help your silent auction succeed, click here.