Bid Beacon has been helping event planners, fundraisers, charities, schools, art galleries and non-profit organizations run silent auctions since 2018. We have seen thousands of amazing causes not only reach their fundraising goals but exceed them, some by more than double! These successful silent auctions have raised tens of millions of dollars towards causes across North America and beyond.
We dedicated some time, energy and resources towards self-improvement and self-care. The result is outstanding. We are beyond excited to announce that Bid Beacon has received a major upgrade!
Since the launch of Bid Beacon, our look and feel has stayed relatively the same. It was long overdue for a refresh!
Admins and guests will both love the simplified navigation throughout the Bid Beacon app. It was our main goal to create the most user-friendly experience possible.
Not only did we undergo a visual transformation, but we've also added some amazing new features and we're ready to take the fundraising world by storm!
Auction Preview & Sharing
A feature that was on the wish list for many of our regular clients has arrived! Now, when you share your auction's link, anyone can preview your auction see what's up for bid. No logging in necessary!
Users who preview your auction won't be required to register or sign into their Bid Beacon accounts until they are wanting to make a bid. This also means that they won't count towards your auction's guest limit! That is, until they're ready to join in the action. These changes will help your auction attract and retain guests when promoting on social media.
Speaking of which, we recognize the significance of social media when promoting a silent auction, and our goal is to encourage more of it. To make sharing and promoting your auction even easier, you can now share links directly to items or to your auction details page.
If your auction has a big-ticket item that is guaranteed to stir some excitement, share the item's link. This will take users who follow that link directly to that item's description page.
We're not done there! Admins are also able to invite guests from past auctions to join their next auction. Amazing way to re-engage people, don't you think?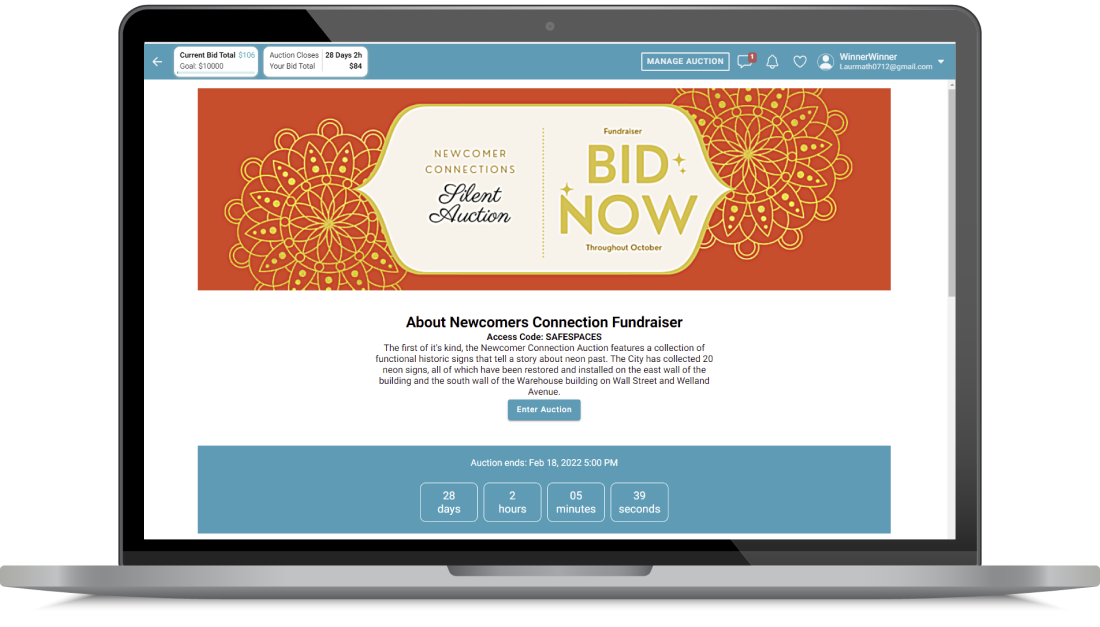 The ability to personalize and make your auction truly stand out has been a widely sought-after feature. We've heard you loud and clear and custom branding is now available! Now, when you invite guests to join your silent auction, the first thing they will see is YOUR brand, not ours!
With custom branding, you can upload an auction logo, banner image and create a unique access code that guests use to join your auction. This new feature is included with our Ultimate bundle or be purchased as an add-on.
What this means for your organization is simple: providing your audience with more opportunities to give online opens you up to a much warmer market for donations.
Enhanced Sponsor Recognition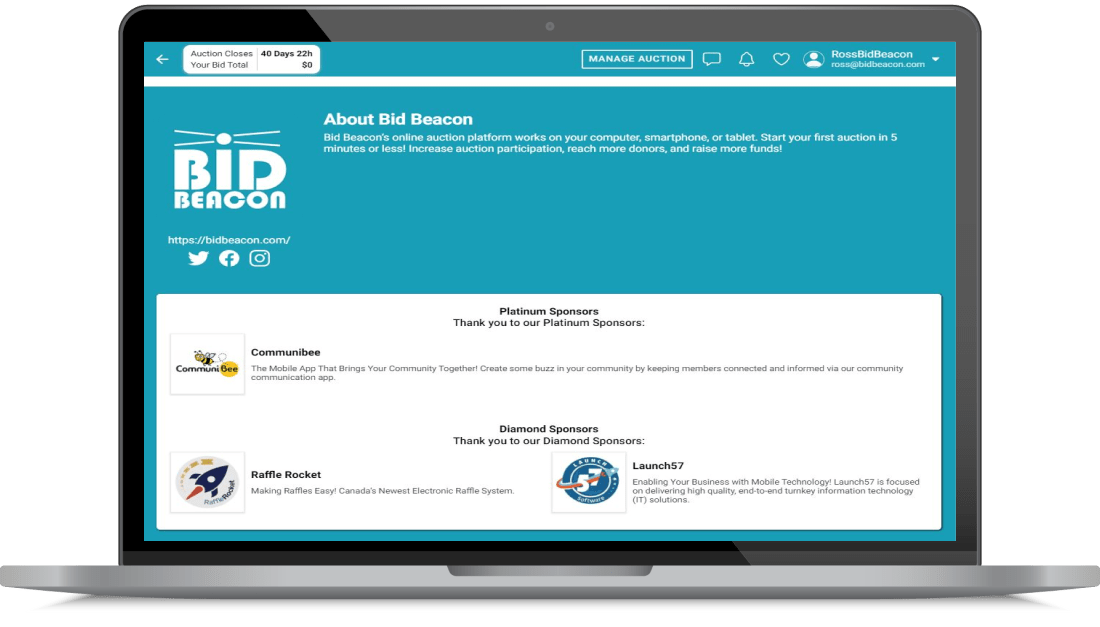 Our team knows the importance of properly recognizing sponsors. Simply showcasing a logo is far from enough anymore. With this update, you can upload sponsor logos, a link to their website, and provide written descriptions for each sponsor.
On top of that, you'll be able to set sponsorship tiers meaning, if you have multiple sponsors at differing values, you can recognize them accordingly.
With these changes, we are giving admins full control over how they present sponsors to their guests and increasing the value of the sponsorship exponentially.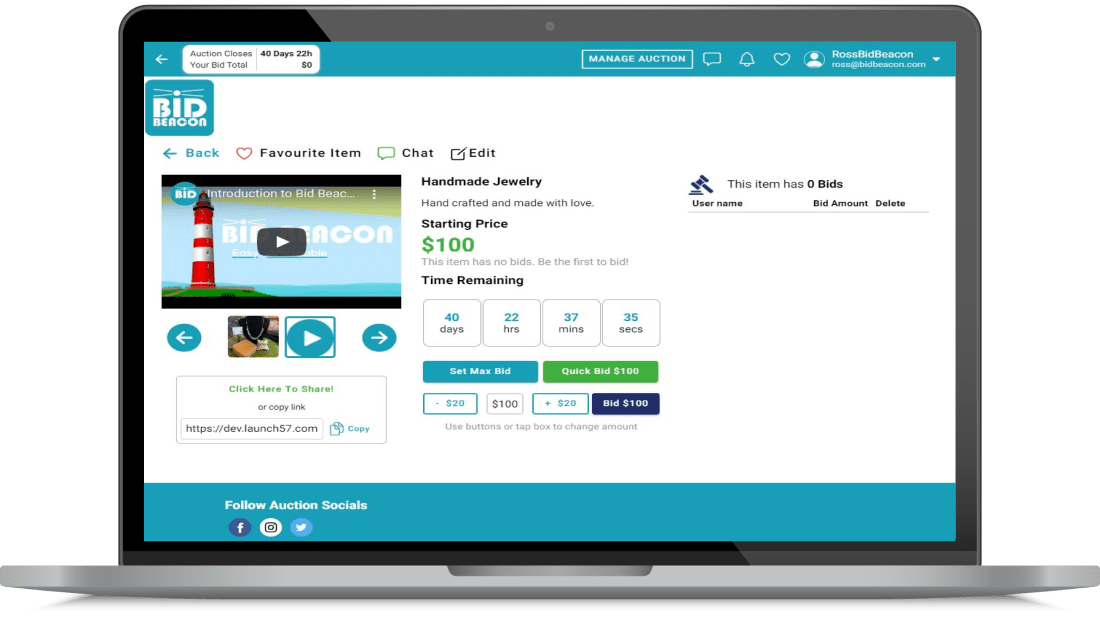 It's 2022. We all know images are great but videos are better! Bid Beacon now supports the use of embedded videos that will blow your guests away. For each auction item, admins can include up to one video URL.
Using video is a perfect way to provide an in-depth overview or entertaining commentary of your most unique items and it's as simple as copying and pasting a share link from YouTube. This new feature is included with our Ultimate bundle or be purchased as an add-on.
Bid Beacon's UI/UX designer took customer reviews, feedback and survey responses into consideration for the overall app look and feel. The result, we think it speak for themselves.
One of the changes that our admin clients will notice first is the enhancements to the dashboard where you manage your auction. You'll find it works best on desktop but is also accessible from mobile device when in an internet browser.
The downloaded app will no longer provide access to the admin dashboard, so to manage auction, be sure to access app.bidbeacon.com through a web browser.
Another area that our team felt could use some love was the exportable reports. Previously, Bid Beacon offered three types of reports: Export Results, Export Guest List, and Export All Bids. Based off client feedback, and common issues, we found these reports to be lacking some key details.
With that in mind, we're providing admins with three new types of reports!
Auction Close Out: this export will keep track of all winning bids, as well as whether an item has been paid for or picked up.
Top Items ($): this export includes a summary of the most popular items by dollar amount.
Top Items (#): this export includes a summary of the most popular items by number of bids.
If you have any feedback, feature wishes or comments we'd love to hear from you! Email us anytime at [email protected]