Little details can make or break a charitable event, so you can never do enough research.
The more data you have, the more you'll know about how to attract guests, keep them happy, and encourage them to participate in your fundraiser.
We've put together an updated list of useful fundraising statistics so you can arm your team with relevant information and make informed decisions about how to set your event up for success. Find stats below that will help you invite the right guests to your silent auctions, encourage bidding, time the event properly, and more.
10 Key Fundraising Stats for 2022 at a Glance
We'll cover these in greater detail below—but here are ten basic points you should be aware of before planning any fundraising event in 2022:
73% of donors prefer giving online (44% unprompted and an additional 29% after being prompted by digital campaigns)
At least 26% of all online giving happens on mobile devices
Online giving grew by over 12.1% in the last year
73% of the world's charitable donors are women
31% of annual gift giving happens in December
35% of all giving occurs in the last 3 months of the year
Donations made on branded forms are 38% larger on average than those made on generic platforms
Global giving is expected to increase by 5.1% by the end of this year
Email fundraising responses have declined by 9% over the past year
69% of all donations are made by individuals
What These Fundraising Stats Mean for Your Organization
Let's consider each of the stats identified above, along with their implications for your organization in the coming year.
1. 73% of Donors Prefer Giving Online
According to recent statistics from 2021, 44% percent of donors prefer online giving unprompted, while an additional 29% prefer online giving after receiving prompts from digital campaigns—for a total of 73% overall. The remaining 27% generally do not give online.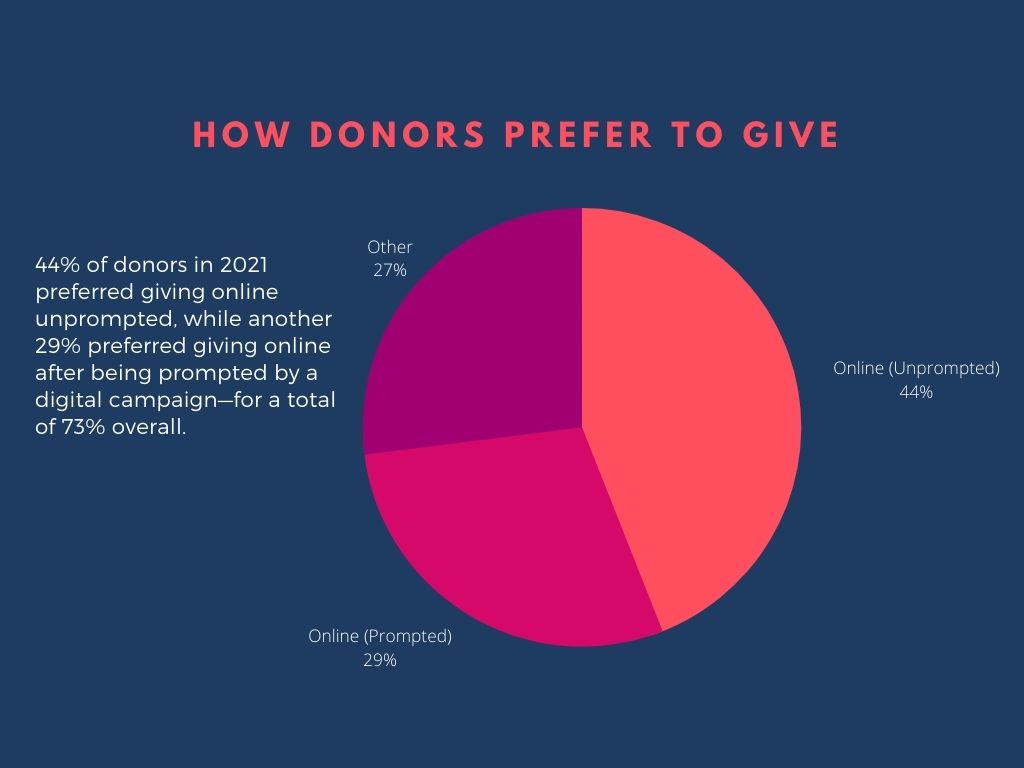 What this means for your organization is simple: providing your audience with more opportunities to give online opens you up to a much warmer market for donations.
2. At Least 26% of All Online Giving Happens on Mobile Devices
If you're doing digital fundraising of any kind, it's imperative that you make use of mobile technology, since that's where over one quarter of all online giving now takes place. Silent auction software is a great example of the type of platform where online giving really flourishes.
Online silent auction apps like Bid Beacon make it easy for your guests to donate with just a tap or two of their fingertips. Additional features like automatic bidding make the process even easier, increasing the likelihood that attendees will participate in your fundraiser.
3. Online Giving Grew by Over 12.1% in the Last Year
Not all giving happened online in 2021—but digital fundraising is becoming more popular every year. The takeaway here is simple: you need to encourage online donations in some way if you want to receive all the money your audience could be giving to your organization.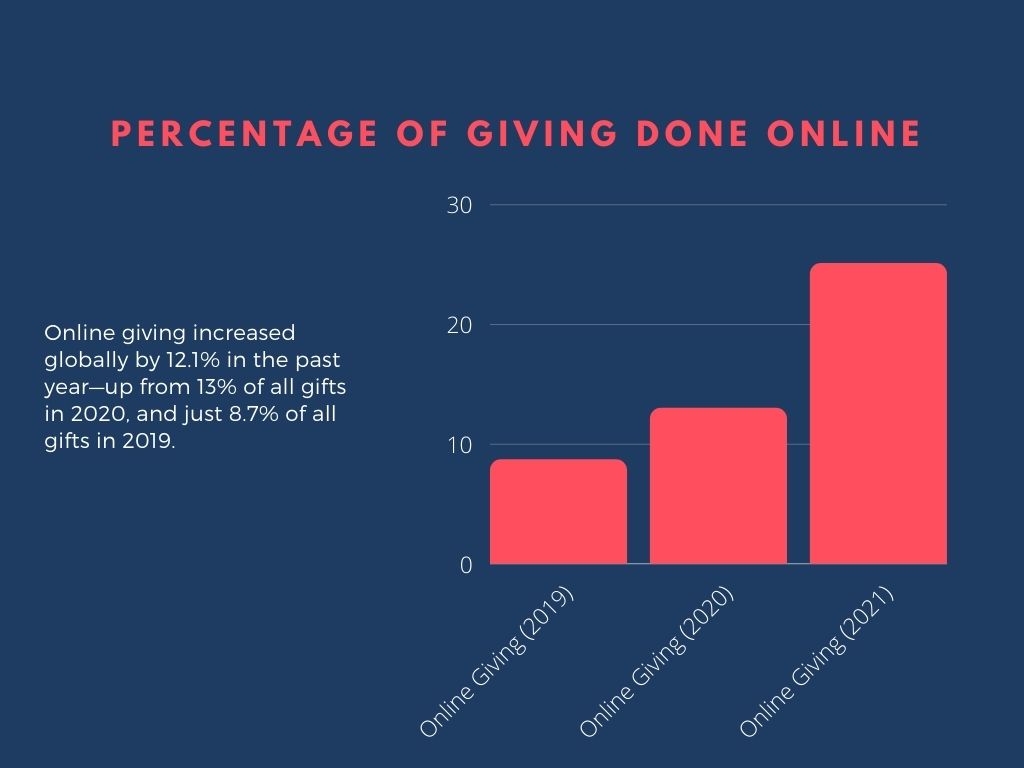 4. 73% of the World's Charitable Donors are Women
Not only are nearly three quarters of the world's charitable donors women over the age of 37, but 93% of them live primarily in developed nations. Understanding how to reach this demographic during your silent auction or other charitable event can unlock significant fundraising potential, so keep this audience in mind when selecting a venue or seeking out auction items.
It's also worth noting that nearly 60% of the women in this demographic prefer to do their giving online. Digital fundraising tools like Bid Beacon can give these guests a way to spend money at your fundraiser they'll actually be likely to use.
5. 31% of Annual Gift Giving Happens in December
If you've been thinking about making changes to your organization's fundraising strategy, don't wait for the new year to do it. Almost one third of charitable giving happens during December, so you'll want to make sure you have the tools you need to set up an event and prepare it for success well in advance.
6. 35% of All Giving Happens in the Last 3 Months of the Year
December is by far the busiest month for charitable giving, but don't discount October and November. The last three months of the year combined account for 35% of all giving, so upgrading fundraising tools and planning events for the last quarter of the year is a smart move for nonprofit organizations.
7. Donations Made on Branded Forms are 38% Larger than Those Made on Generic Platforms
Knowing that online giving is becoming a preferred method for more people is one thing, but you also need to know how those people prefer to make their donations. Even the forms you use to collect donations can have a major impact on how much you receive.
For example, you can collect donations using generic platforms like Paypal, but that doesn't necessarily mean you should. Choosing a branded form (commonly found on dedicated fundraising platforms such as Bid Beacon) has been shown to increase the average donations you'll receive by 38%, creating significantly larger proceeds for your organization.
8. Global Giving is Expected to Increase by 5.1% this Year
Keeping your organization's fundraising tools and strategies up to date gets more important every year, because giving is on the rise. This continues a trend that has existed for several years, so it's a safe bet that giving will continue to increase around the world over the next few years as well.
9. Email Fundraising Declined by 9% Last Year
Fundraising via email has long been considered one of the most effective strategies, but that might be changing. In the past year, email fundraising dropped by 9%—even though online giving was becoming more popular.
Does that mean the data contradicts itself? No—it just means people are using different tools to make online donations. Silent auction apps like Bid Beacon and the rise of dedicated online fundraising platforms have simply become more convenient than fundraising emails—although email marketing can still be an excellent way for your organization to point your audience towards those tools.
10. 69% of All Donations are Made by Individuals
Finally, remember that the vast majority of donations still come from individual people. This means that while your organization shouldn't exclude corporations or foundations from your fundraising efforts, you're likely to see more success using tools that appeal to everyday people who are interested in making a difference.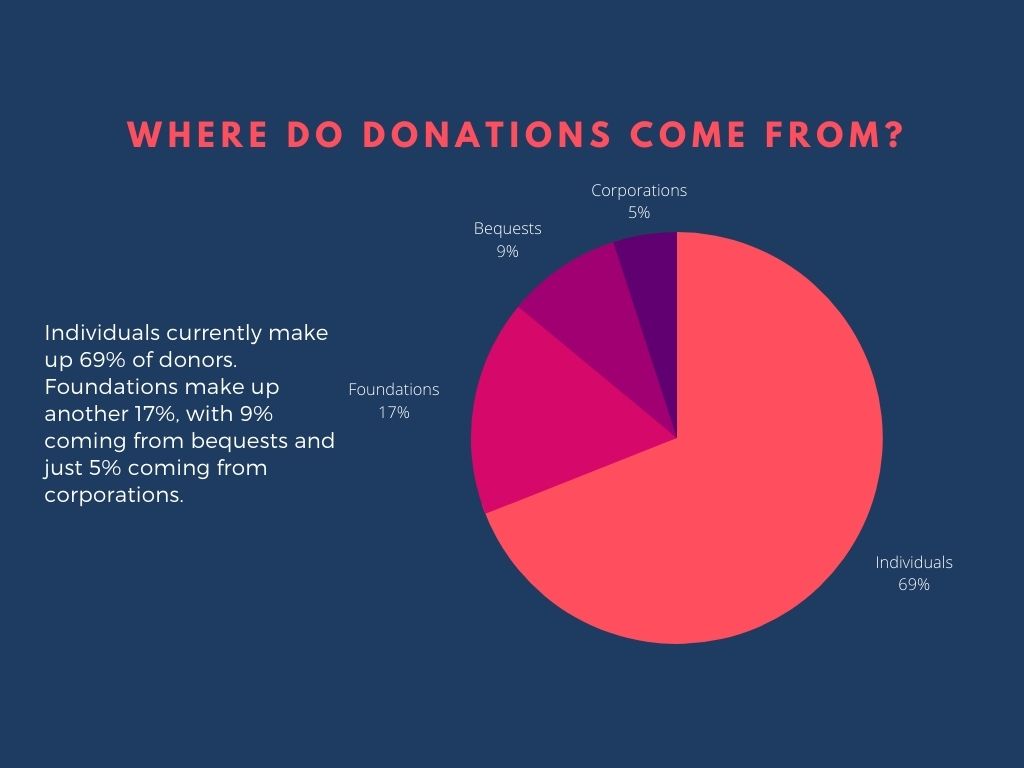 Apps that allow you to set up charitable events, invite guests, and encourage them to make contributions are likely to be some of the best fundraising tools for your organization. For more information, check out the full list of Bid Beacon's features and find out how they can help with your upcoming events.