Breast Friends Dragon Boat Racing Team of Edmonton
Breast Friends fundraises throughout the year to allow breast cancer survivors to compete in dragon boat racing festivals worldwide! Their annual Fundraising Gala is one of their biggest in-person events of the year.  
Traditionally, their gala would include a silent auction manually tracked through bid sheets. This year, they decided to host an online auction through Bid Beacon. 
"Awareness and Hope in a Dragon Boat!"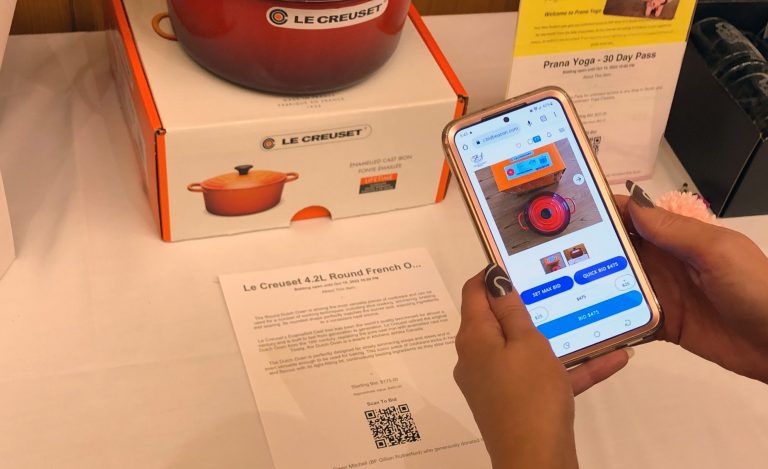 The Breast Friends Fundraising Gala took place at a local banquet and catering facility which was large enough to accommodate well over 150 attendees. Within the banquet hall, there were several tables set up to display their auction items. 
Over the course of the night, there were presentations, a buffet dinner, a silent auction, multiple raffle draws, and capped off with a dance. Traditionally, events with dinners, dances, and presentations result in little to no bidding activity during those times. Since the auction was accessible online, the bidding at Breast Friend's Fundraising Gala never stopped. 
Presented auction items on tables, live at the event. Bid sheets were replaced by item QR codes that sent guests directly to the item's page within Bid Beacon.

 

Used multiple methods to fundraise throughout the event (a silent auction, several raffle draws, and donation collection)

 

In the auction's final hour, one admin created a "Hidden Gems" category for items with 0 bids. They reduced the starting bid on those items, making them appealing for bidders! This savvy admin then promoted the new category, ensuring every item sold!

 

Followed silent auction best practices by setting starting bids anywhere from 25% to 40% of an item's retail value

 

Included the auction's Access Code on event tickets to help navigate guests to Bid Beacon

 

 
About Breast Friends Dragon Boat Racing Team of Edmonton
Formed in 1998, Breast Friends operates in the Edmonton area, and provides women who have been diagnosed with breast cancer the opportunity to lead full and active lives. Breast Friends attends five to six festivals each summer and participates in competitive dragon boat racing events. These competitions are held across Canada, some even internationally (Australia, Italy). 
Why dragon boat racing? Studies have found that the benefits of repetitive upper body motion both during and after cancer treatment far outweigh any risks. This fun, yet competitive environment helps breast cancer survivors restore their physical and emotional well-being. 
None of this would be possible without the generous support of their annual corporate sponsors. Breast Friends is dedicated to recognizing sponsors on social media, at the festivals they attend, and even on the shirts they wear! Best of all, they also host a corporate paddle with the team! How cool is that? 
If you would like to learn more about Breasts Friends, or are interested in becoming a corporate sponsor, visit breastfriendsedmonton.org