Important!
Admin functionality is not available in the downloaded app. You must access Bid Beacon via web browser on any device to edit, create, or manage your event.
Adding Administrators to your auction
Running an auction or marketplace isn't a one-person show. That's why Bid Beacon makes it easy to add additional administrators to help build and manage your event.
Follow these steps to add helpers to your auction
Send the Auction Details Link to your team of administrators, or invite them from within the auction (learn more).
Each team member will need to either create a Bid Beacon account, or log in to their existing account before joining your event.
Once they have joined, navigate to the Manage Guests tab from your auction dashboard.
Find the team member you wish to upgrade to admin status. Under the Access Level

 column, change their access level from

Guest

to either

Admin

or

Owner

* (

See below to learn more about each status)
Have your new admins refresh their browser or log back into Bid Beacon.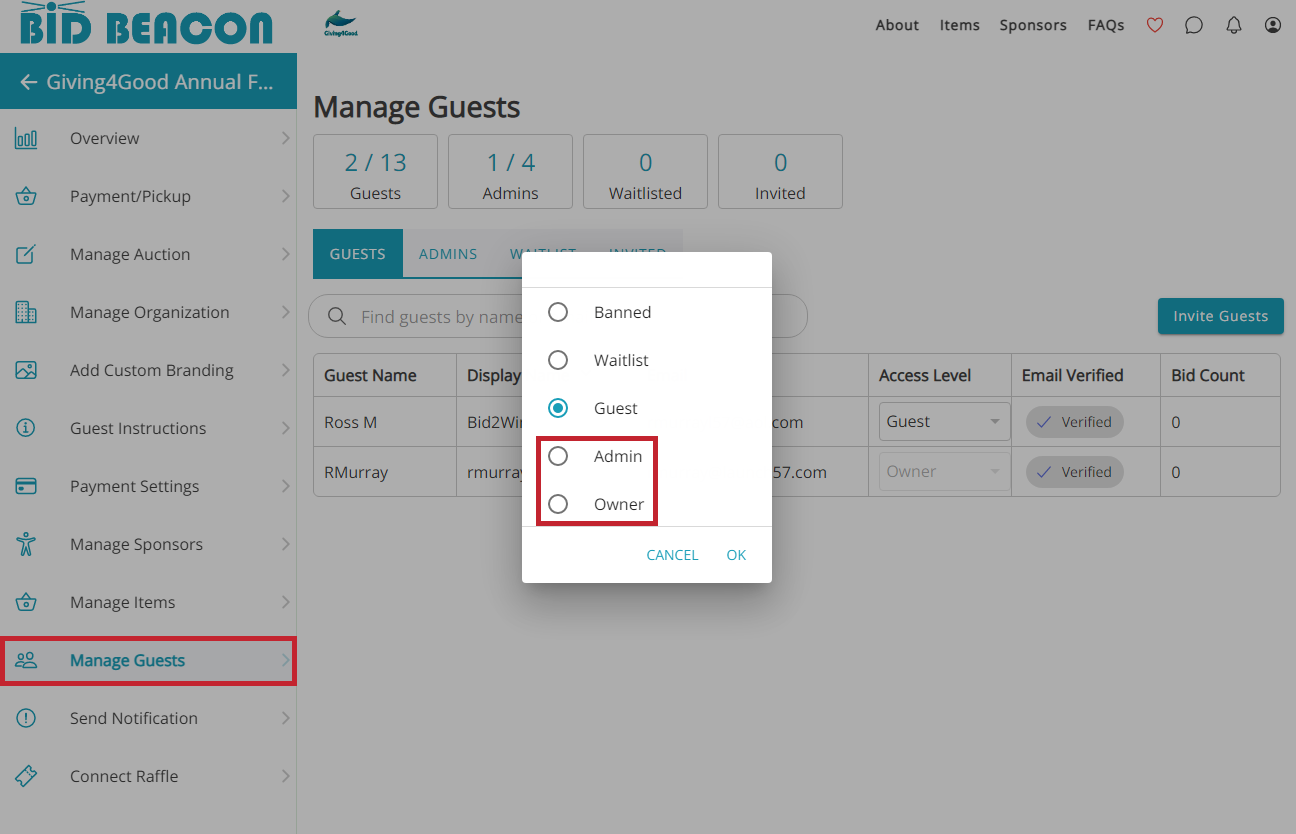 Admin status: These users have access to all add admin functions except payment settings. This access is best for volunteers and anyone who doesn't need access to add or manage payment settings.
Owner status: Can access all admin functionality including the payment settings. Give this status to your treasurer, or those in charge of collecting and managing your funds.
Banned status: Permanently revoke a guest's access to view, join, and participate in your auction.
Waitlist status: If your auction reaches its guest limit, guests who join thereafter are automatically put in a waitlist. You will need to expand your guest limit in order for these users to participate in your auction. This is only applicable to Build Your Auction plans as the Ultimate Risk-Free plan has an unlimited guest limit. Waitlisted guests can still preview your auction, they just won't be able to place bids or make purchases until they're given the Guest status.
Guest status: The default status given to anyone who joins your auction. These guests will have the ability to bid on your items.