Don't miss out on participation because someone forgot to take out cash or bring their cheque book. By accepting payments through the Bid Beacon app, people can choose the convenience of digital payment, which will also help to reduce the payment scramble at the end of the auction. 
In this guide, we will cover the different payment options and how to set them up seamlessly in the app to make your auction a complete success.
Choose Your Payment Providers
Learn how to integrate Stripe into your silent auction.
Read More »
Follow the steps to setup online payment using Square.
Read More »
Follow the steps to setup online payment using PayPal.
Read More »
Enabling online payment gives guests the option to pay for their items through the app by digital means, but they can still pay in person with cash, cheque, or credit card payment.

Although we provide 3 options for online payment providers, we recommend only setting up one per auction.
How to Configure Payments in Bid Beacon
Bid Beacon lets you accept payments from your guests through a few different payment providers. Each has their own setup procedure on their end, but how they are configured within Bid Beacon is the same for each. You can configure as many as you like. If more than one provider is used, guests will be prompted to choose which one they want to pay with.
Each provider has both Live/Production Keys, and Test/Sandbox Keys. The final auction payment will always use the keys you have entered into the Live/Production fields.
Payment providers can be configured on your account profile, so you can easily use the same payment configuration for future auctions. A payment provider must be configured in order to accept online payment from guests when the auction ends.
To manage payment providers:
Click on your username at the top right of the screen
Click Edit Profile from the dropdown menu 
Click Online Payment Setup under Miscellaneous Actions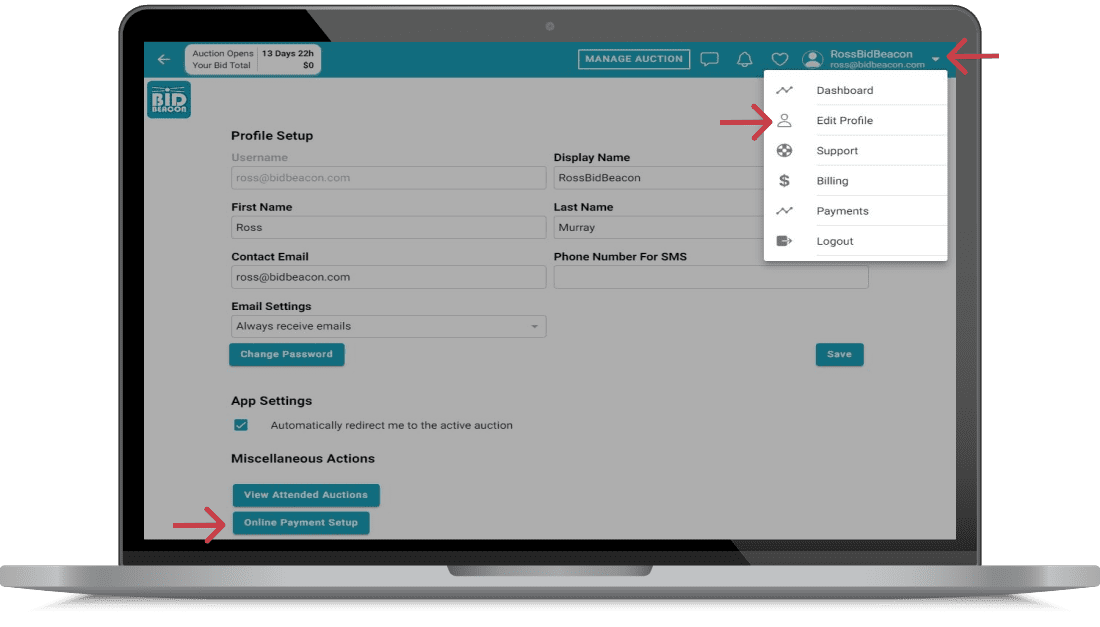 Otherwise, if your auction has Online Payments enabled, select Manage Auction near the top right of the screen 
From the Overview screen, click on the Payment Settings tab
Under How Will Guests Pay, select Online
Each payment provider has Key or Token fields. Copy and paste the keys from your payment provider into the correct fields. Make sure you are putting the correct keys in the appropriate fields.
Once you have payment providers configured, click Test Payment to make sure you have entered the correct keys.
Note that when the auction ends, only payment providers with live keys configured will be presented as options to your guests.