Don't miss out again on participation because someone forgot to take out cash or bring their cheque book. By accepting payments through the Bid Beacon app, people can choose the convenience of digital payment, which will also help to reduce the payment scramble at the end of the auction. 
In this guide, we will cover the different payment options and how to set them up seamlessly in the app to make your auction a complete success.
Follow the steps to setup online payment using Stripe.
Read More »
Follow the steps to setup online payment using Square.
Read More »
Follow the steps to setup online payment using PayPal.
Read More »
Enabling online payment gives guests the option to pay for their items through the app by digital means, but they can still pay in person with cash, cheque, or credit card payment.
Our payment integrations use the best practices of the various payment providers. No credit card information is passed through, or stored on our servers. handled by fully PCI compliant Stripe, which handles payments for giants like Kickstarter, Shopify and OpenTable.
Some auction sites take a percentage of your auction sales, whereas we only charge a flat fee to enable the payment option. Stripe, like any payment provider, does charge processing fees.
How to Configure Payments in Bid Beacon
Bid Beacon lets you accept payments from your guests through a few different payment providers. Each has their own setup procedure on their end, but how they are configured within Bid Beacon is the same for each. You can configure as many as you like. If more than one is configured, users will be prompted to choose which one they want to use.
Each provider has both Live/Production keys, and Test/Sandbox keys. The final auction payment will always only use the keys you have entered into the Live/Production fields in Bid Beacon.
Payment providers can be configured on your account profile, so you can easily use the same payment configuration for future auctions. A payment provider must be configured on the auction under 'Manage Online Payment' in order to accept payment from guests when the auction ends.
C

lick 'Edit Profile' and scroll down to select 'Configure Payment Providers' to configure payment providers on your user account.

If you're in an auction with Online Payments enabled, you will have a side menu tab called 'Manage Online Payment' to configure payment for this specific auction.

If you fill in payment configuration on your profile first, then opening the auction payment config will prompt you if you want to copy profile values over.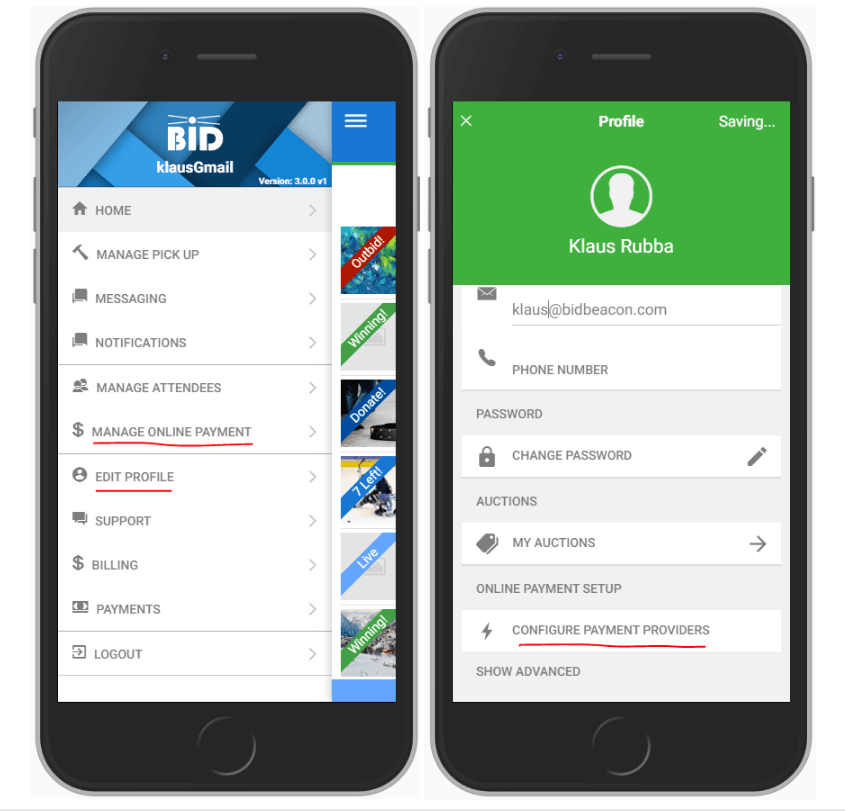 Tap on the key you wish to enter, and then paste in the key. Make sure you are putting the correct keys in the right fields.
Once you have payment providers configured, you can test using the 'Test Online Payment' button at the top. If you have multiple payment providers, you will have to choose which provider you wish to test.
Each payment provider has their own section that can be collapsed. Each has live and test keys. When the auction ends, only providers with live keys configured will be presented as options to your guests.