Most of the time, guests will be bidding on items that are Bid item types. This is the standard item type for silent auctions where guests can bid on items incrementally. Guests have three options when bidding on these types of items.
Quick Bid

 – This will instantly place a bid at the next increment.

Set Max Bid

– Set a maximum amount that you would be willing to spend on the item. Our system will bid on your behalf at the minimum increment whenever you get outbid. If you get outbid and the next minimum bid is greater than your maximum, the system will stop bidding and you will be notified.

*Note, if another bidder also has max bid set, the bids could come very quickly, so be prepared!

Custom Amount

 – You can type in a custom bid increment of your choosing (but not less than the minimum increment.
Accidentally bid on an item? Auction admins can remove your bid if you send a message using the chat bubble on the item's page.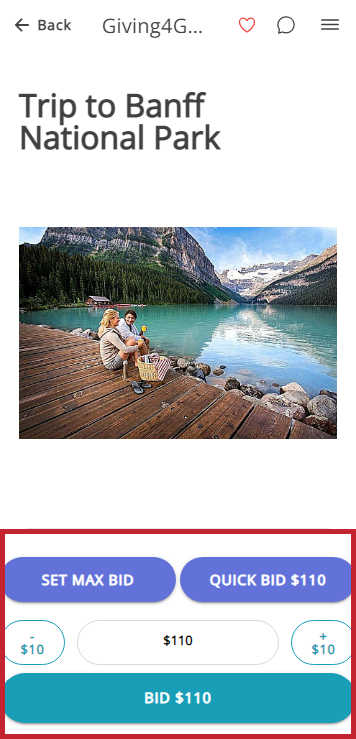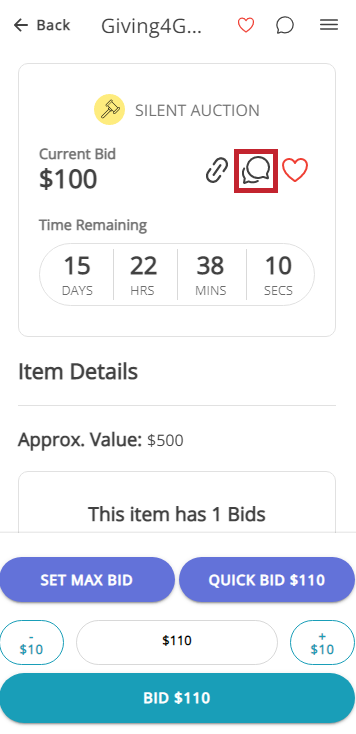 Blind Bid – Place a bid amount that you believe will be high enough to win the item. Guests will not see bids from other guests, so it will be a complete surprise as to who won once the event ends.
Buy It Now – Items are sold at a set price with a limited quantity.
Donation – Simply make a donation to support the event and its cause. Admins will set a minimum donation amount, but guests can choose to donate more if desired.
Live Item – These items cannot be bid on within Bid Beacon. They are made available in the app as a way for the admin to promote items that are to be auctioned off at their live event.