A step-by-step guide on how to create an auction in Bid Beacon.
Important!
Admin functionality is not available in the downloaded app. You must access Bid Beacon via web browser on any device to edit, create or manage your auction.
Step 1 - Register and Login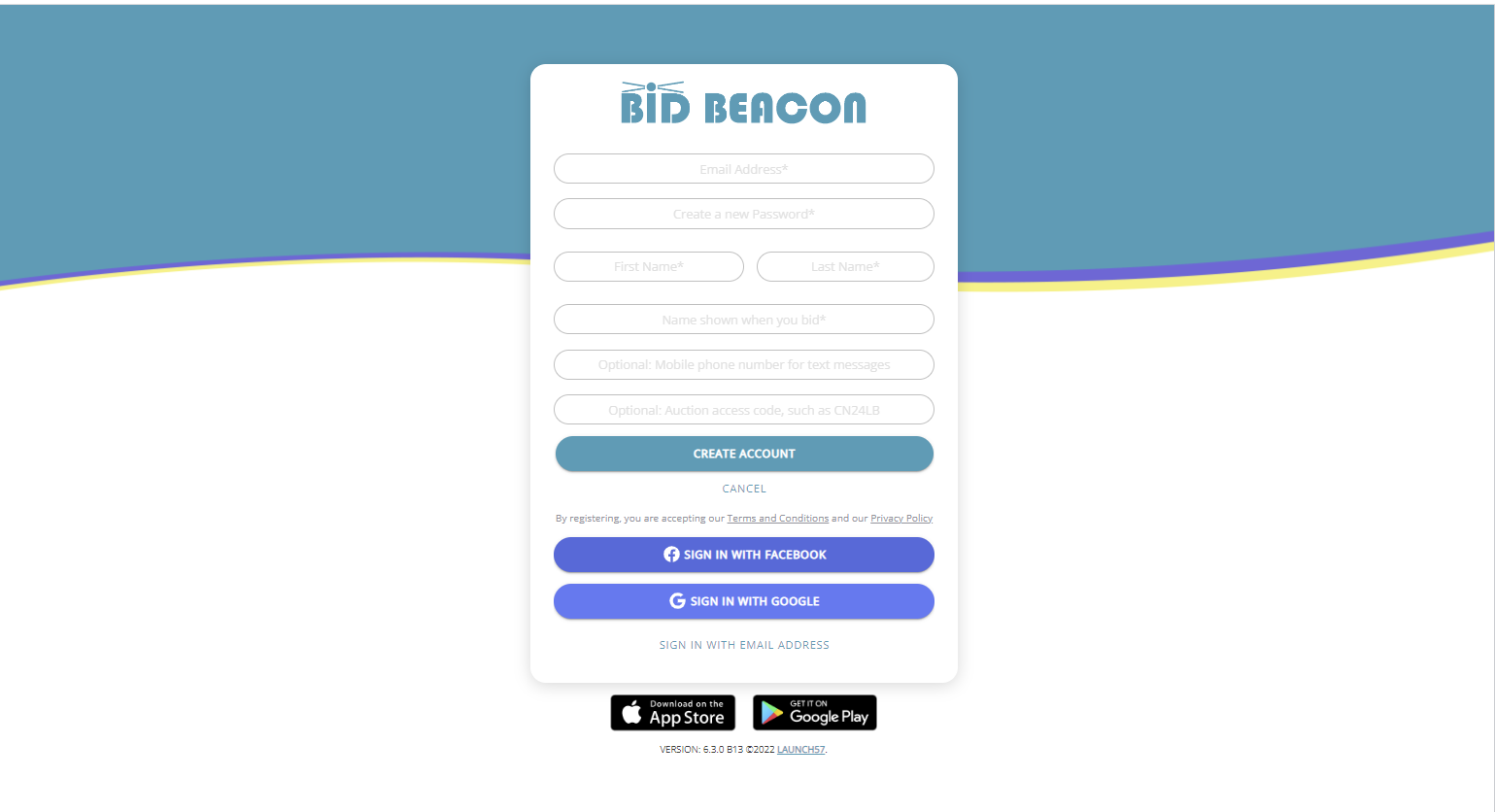 Admin access to Bid Beacon is only available on a web browser from any device (phone, tablet, computer).
The downloadable app is great for guests but can not be used to access the Admin Dashboard or create an auction.
Admins and guests create accounts the exact same way. Go to app.bidbeacon.com and click Create an Account.
Fill in:
Email Address: Used as your log in and for communications about your auctions.
Password: Can be changed later if you forgot or mistyped
First Name: Your first name
Last Name: Your last name
Display Name: Can be a version of your name, or something more unique
Mobile Phone Number: Optional, if used you will receive text message notifications.  
Auction Access Code: Leave blank for now
Click Create Account
If it's your first time on our dashboard, you can view the Bid Beacon Intro video for a
quick overview on both the guest and admin experience in the app.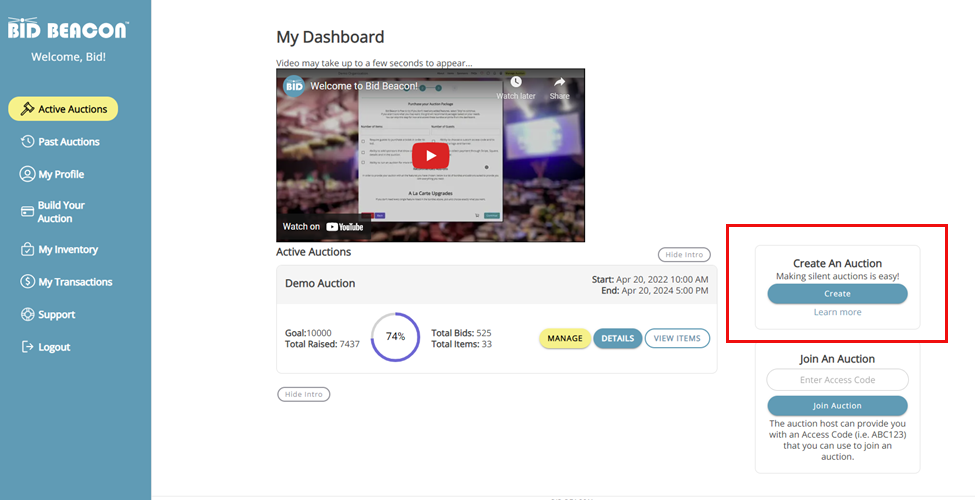 To start building an auction click the Create Auction button. Follow the
steps from the setup wizard to create your auction. Details provided within the
wizard can be changed later in the Auction Dashboard.
Step 1:
About Auction
Step 2:
About Organization
Step 3:
Choose Auction Type
Step 4:
Review
Step 1:
About Auction
Auction Name
Auction Start Date & Time
Auction End Date & Time
*max 30 days in this field


*All details can be edited later
Step 2:
About Organization
Step 3:
Choose Auction Type
Step 4:
Review
From your auction dashboard, work through each of the setup screens on the left.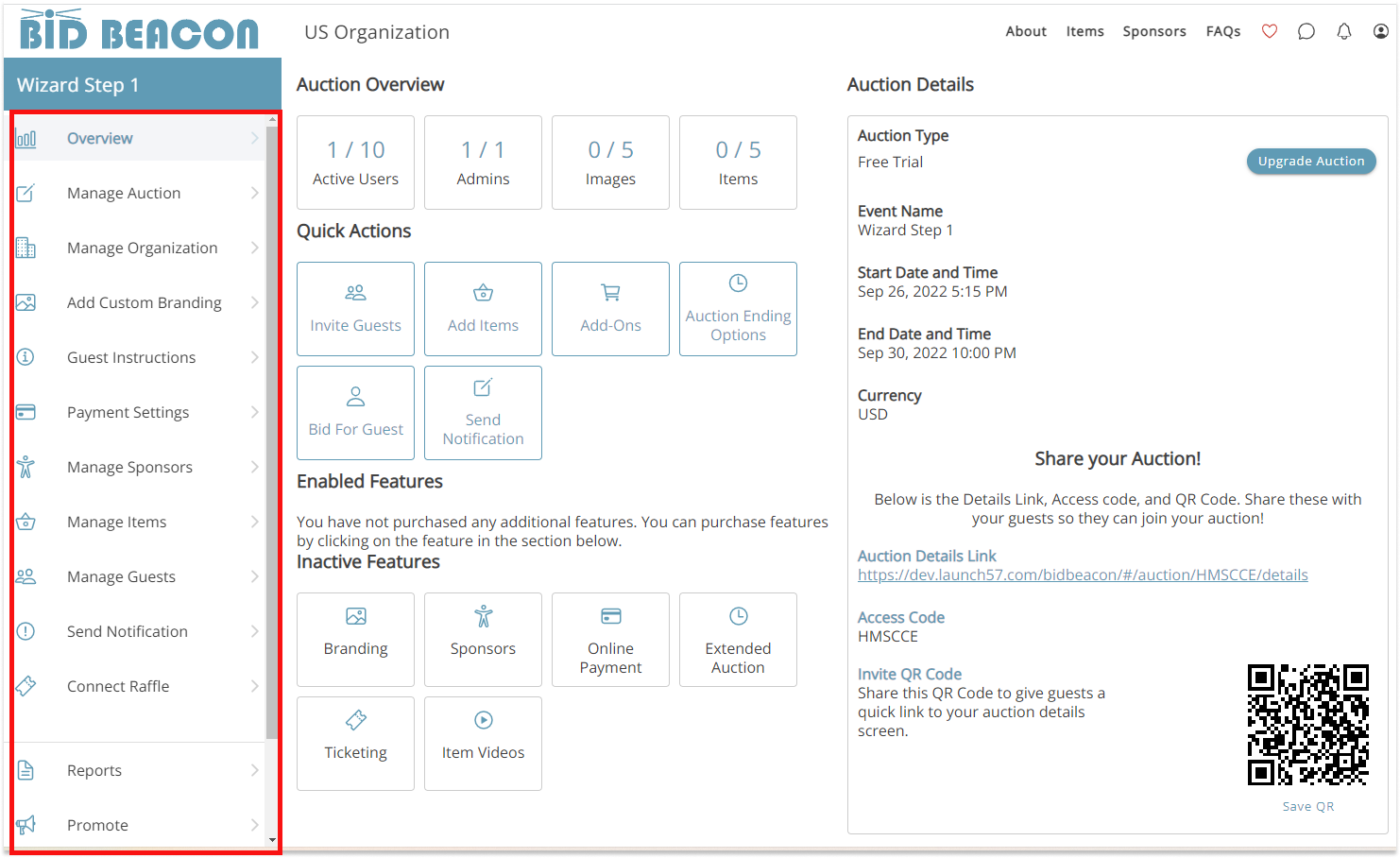 Quick Actions take you to pages you'll frequent more often but all screens have important info
you need to fill out to get the most out of your auction.
Some premium features are locked if running a Free Trial or Build Your Auction plan and haven't added that feature.

All premium features are included in Ultimate Risk-Free auctions.
Below we've separated out our upgraded features from our basic inclusions to help guide your decision on what auction type is right for you.
Bid Beacon's Premium Features
Custom Branding
Manage Sponsors
Payment Settings
And More
Custom Branding
Change the auction color theme, add a banner image, customize the link/access code, and add your logo to the header.
Manage Sponsors
Payment Settings
And More
Bid Beacon's Included Features
Making Admins Lives Easier
Ways to Raise More
Increase Bidding Activity
A Unique Guest Experience
Making Admins Lives Easier
Copy From Past Auctions your org name, past items, past payment setup, and even past guests.
Multi-Currency Support run auctions in CAD, USD, GBP, EUR, AUD and NZD
Support by email – we're here to help at support@bidbeacon.com
Invoice & Receipt Generation automatically
Unlimited Set Up Time before the auction start date
Ways to Raise More
Increase Bidding Activity
A Unique Guest Experience
Step 4 - Payment Settings
From the Overview screen, click on Payment Settings to configure how guests will pay. This is a pretty important step – so much so it has its own guide!
You may need a treasurer's help to complete payment setup.  Review our guide on adding administrators and share the payment guide with your treasurer.
Step 5 - Add Items, Categories & Taxes or fees
You can't host a silent auction without any items. From the Overview screen, click on Manage Items.
From here, we can manage existing or create new items, categories and add taxes or fees to items if necessary. 
Manage Items
Manage Categories
Manage Taxes & Fees
Manage Items
You have the option to create 5 types of items:
Bid Items – 95% of all items auctioned on Bid Beacon are these ones. Set the starting bid, and the increment and off you go.
Blind Bid – these items require bidders to place their highest bid right off the bat. All bids are kept secret (even from admins), and at the end, the highest bidder takes the prize. If two tie, the highest bid placed first would win.
Buy It Now – use for things like merchandise, tickets, or anything with a set price and limited quantity.
Donation – this is for if you want to collect donations with no item attached.
Live Item – for an item you'll be auctioning off live with an auctioneer. It showcases the item, but bids are not placed within the app. The winner can be invoiced for it through the app.
For an in-depth guide on creating an item, check out the article Add Your Items.
Manage Categories
Manage Taxes & Fees
Step 6 - Share Your Auction
In addition to directly inviting your supporters and network to join, be sure to share and promote your auction a variety of ways.
On the Overview screen, check out the Share Your Auction! section.
The Info URL is great for buttons on websites, posting to your social media channels or adding to emails.  
If your guests are familiar with the Bid Beacon app, sharing the Access Code is another way for them to quickly join your auction after logging in.
Click Save QR to download your auction's unique QR code which can then be added to printed materials like programs, posters on golf carts or placed around your venue.
A few tips and tricks we've seen:
Share the page link from the item itself with that items donor to suggest they cross promote with their supporters too.
Invite guests from your last Bid Beacon auction on the "Manage Guests" Screen
Use Custom Notifications to create a buzz
Cross promote your Raffle Rocket and Bid Beacon events on each unique page
Step 7 - During the Auction
During the auction there are many things admins and volunteers can do to help things along.
Use Bid As Guest to place bids for a guest who does not have access to a mobile device, or who may be having trouble using our system.
Use Notifications to create fun messages bringing people back into the app
View progress and success in your reports with up to date information each time you export them
Share item links and promote on social media, big screen or other means
What not to do during the auction:
Don't mess with the payment settings during the auction, some can't be changed once bids are placed
Don't end the auction if you're not truly ready for it to end, there is no going back live once it's over
Don't change your organization country or province/state (unless you legit need to!) because that changes the currency of your auction
Don't forget if you've set reserves on items to confirm before the auction ends that you are still OK with it. If the bid is "close enough", you can remove the reserve before the auction ends and a winner will be declared.
When the auction end time comes, Bid Beacon will automatically close all bids, review the auction data and within a minute declare winners and send out personalized emails to each guest. With Express Banking we'll even automatically charge all winners for the items they won.
Winners notifications
Non-Winners notifications
Admin notifications
Winners notifications
A push notification and text message declaring the auction over and linking them to View Results
Email listing what they've won and sharing the payment and pickup information you provided on the Guest Instructions screen in your dashboard.
Non-Winners notifications
Admin notifications
In addition, a Results screen becomes available: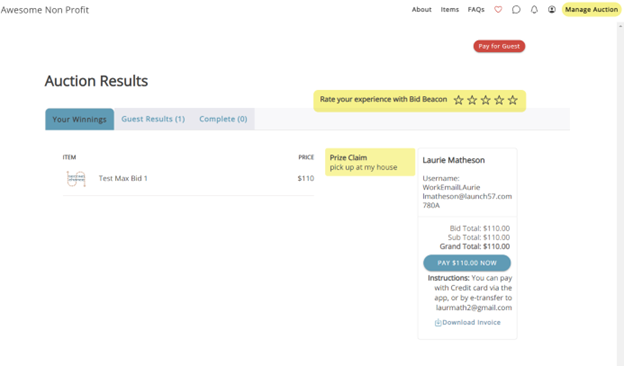 On the Results screen, guests will only see the Your Winnings tab.
Your Winnings
Guest Results
Completed
Your Winnings
Items the user won and totals after any taxes, fees or surcharges set by admins.
Prize claim instructions as written by auction admins on the Guest Information screen in the admin dashboard
Payment instructions as written by auction admins on the Guest Information screen in the admin dashboard.
A Pay button if Alternate Online Payments was set up for this auction
An option to download their Invoice or Receipt. Invoice if unpaid, receipt once paid in full.
Guest Results
Completed