The auction is over, the event is wrapping up. As an auction admin, you're likely wondering, what happens now?
At the end of an auction, a series of emails and notifications are triggered out to all guests and admins.
Emails 
Admins receive an email that summarizes the total raised, and who won which item.
Item winners receive an email that outlines what they have won, how much they owe, how to pay, and where to pick-up their winnings.
All other auction participants will receive an email thanking them for participating, and letting them know they did not win any items.
Notifications 
When guests are using the mobile app, push notifications are also sent, provided users have not blocked notifications using their device settings.
Item winners receive a notification stating the item they won and prompts them to pay
From the Auction Dashboard, find the auction you want to enter and click Manage.
When managing the auction, navigate to the side menu on the left side of your screen and click Payment/Pickup.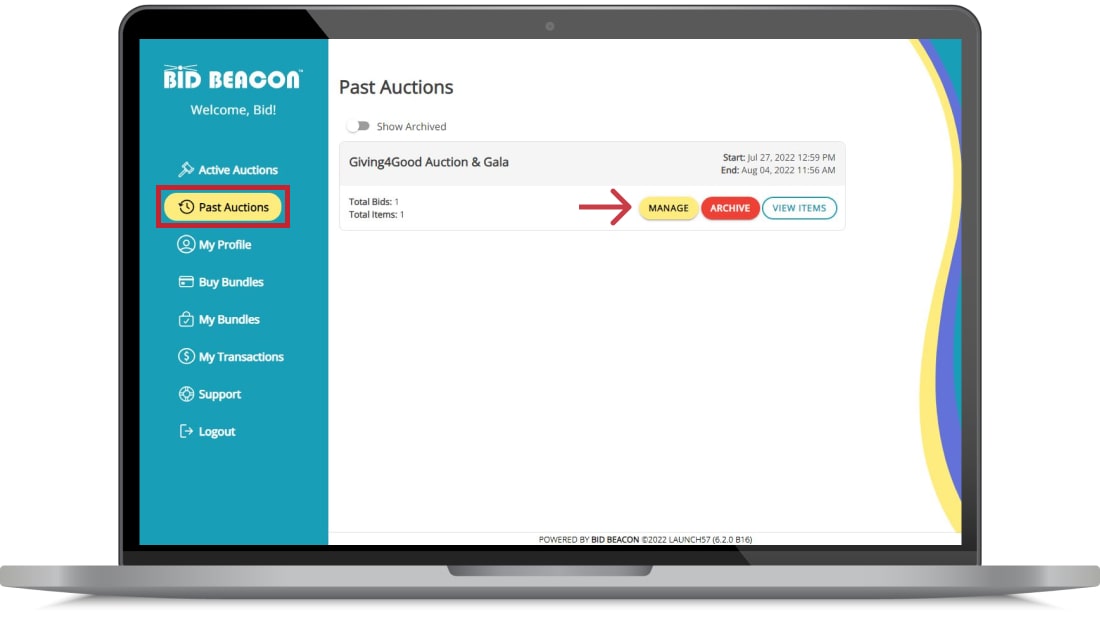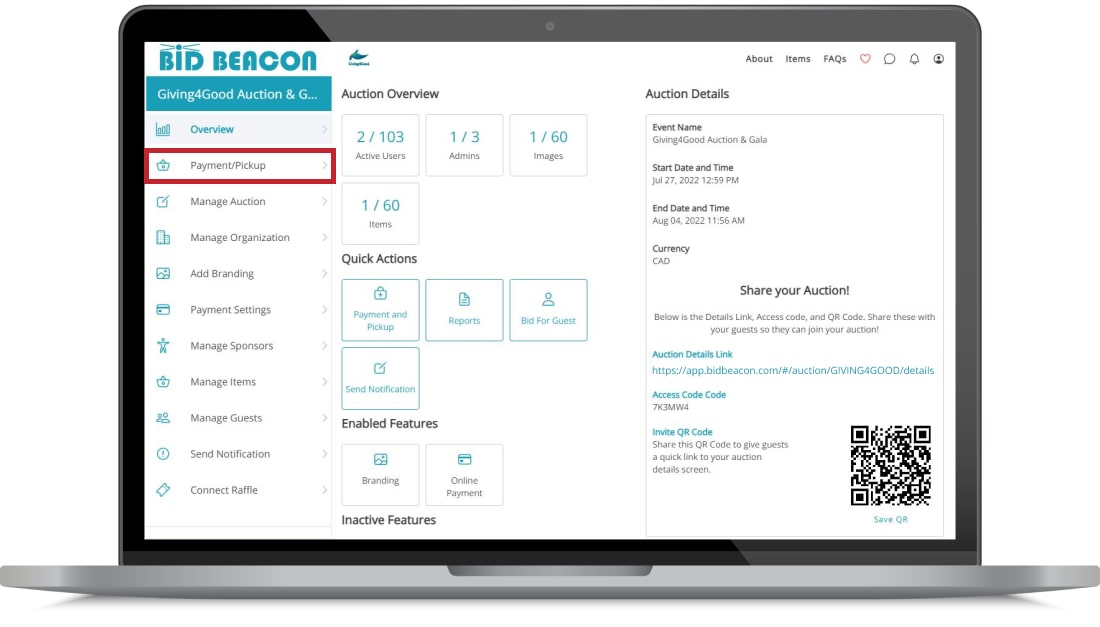 From the Auction Results screen, Admins can:
View who has won which item
Track whether items have been paid for
Mark offline payments for guests who pay by cash, debit, or any method outside of the app
Mark items as picked up when a guest has collected the item
Search for guests by name, email, or phone
Review Completed (paid and picked up items)
Download invoices, either individually or all together
Admins can download exportable reports to track the success and completion of the auction.
*If a guest uses Apple's "hide my email" service the email will be protected. Those emails appear like this: xspz5x88sn@privaterelay.appleid.com
In this case, you will not be able to email those users outside of the app.  You can reach them using Notifications within the app only.
*Phone numbers are optional
Using Payment Integrations
As guests complete their payments in the app, admins will see results changing in real time. 
If paid within the app, the guests name will show View Receipt above Mark as Picked Up
If not yet paid within the app, the guests name will show Save Offline Payment
Only use Save Offline Payment if you have collected funds outside of the app as it will disable the winner's ability to pay through the app
You can view and manage payments in your payment processor's dashboard (Stripe, Square or PayPal)
Admins can also view a full list of payments made within their profile: 
In the top right header bar, click your name
Click Payments
Click Admin
View list of all payments made by others, separated by auction nameU
Collecting Payment Offline
Your winners are sent an email outlining what they won, how much they owe, and are presented the information you wrote in the Payment Instructions and Pickup Instructions fields upon auction setup.
When they click View Results in the auction, they will see all of the items they won, your payment instructions, and their grand total owed. 
Make sure your payment information is detailed enough for winners to understand what to do next!
You can edit payment instructions anytime before the auction ends here:
Click Manage Auction
In the left side menu, click Payment Settings
Provide details into the Payment Instructions and Pickup Instructions fields
Click Save at the bottom of the screen
As payments are collected outside of our app, admins can mark users as paid in the Guest Results screen.
Under the Manage Items section, you can toggle on Hide Items After Auction Ends to help guests easily find the View Results button.