There are many ways to add items as an admin from the Bid Beacon dashboard. This will guide you through all possibilities.
Log In to your Bid Beacon Account
Enter the Auction you want to add items to
Click Manage Auction in the header bar
Click Add Item in either Quick Actions or from the Overview screen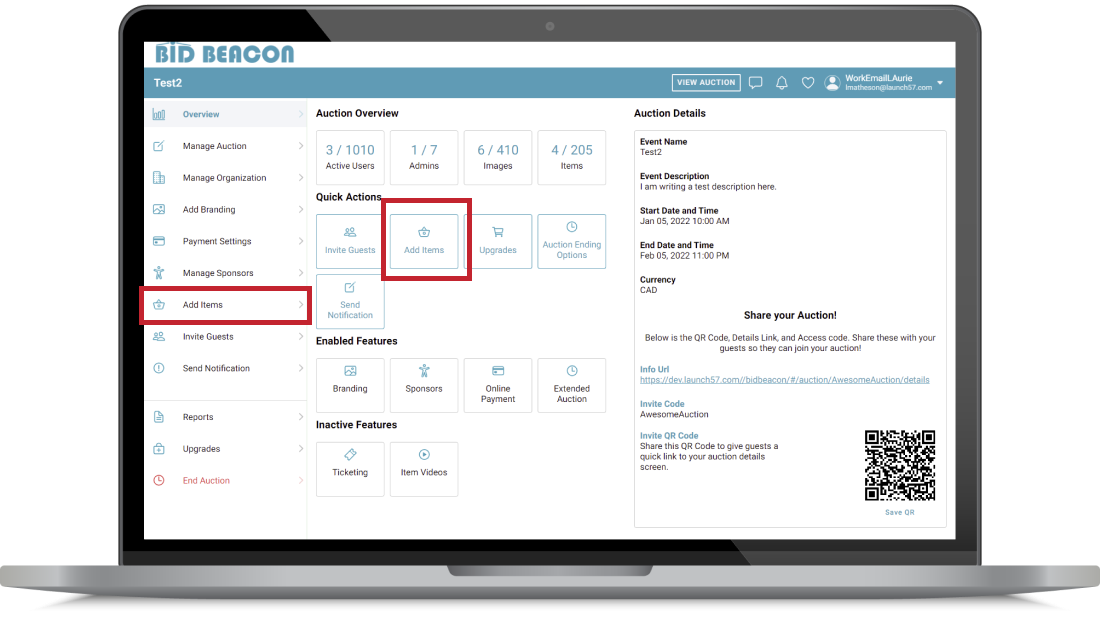 Log In to your Bid Beacon Account
Enter the Auction you want to add items into
Click Add Item as pictured below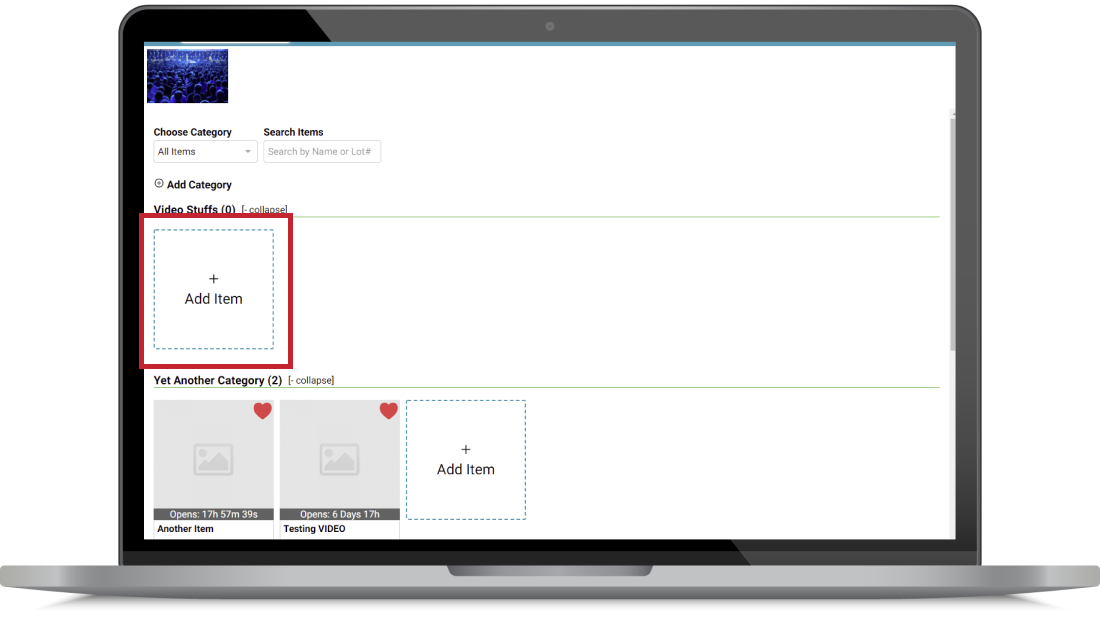 Fill in all desired fields within the five sections as listed below.  
Click [+expand] to open or close the sections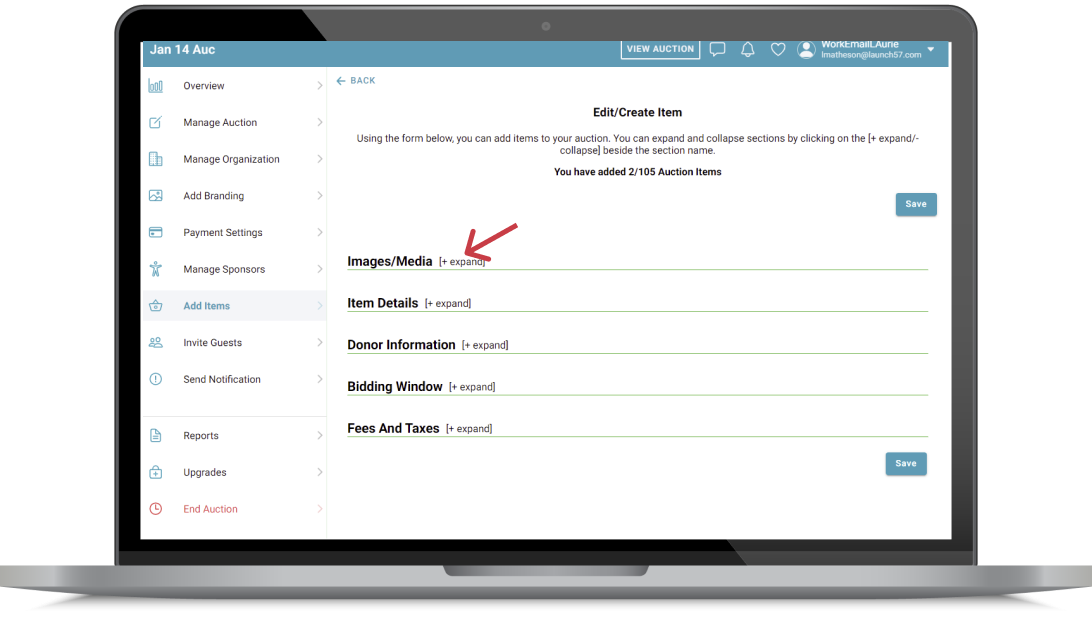 Click Browse to find your image on your device
If video links are included in your package, you can paste the share URL from YouTube here   
You can click Save as you go, or after filling in all five fields
*We recommend you always include at least one image per item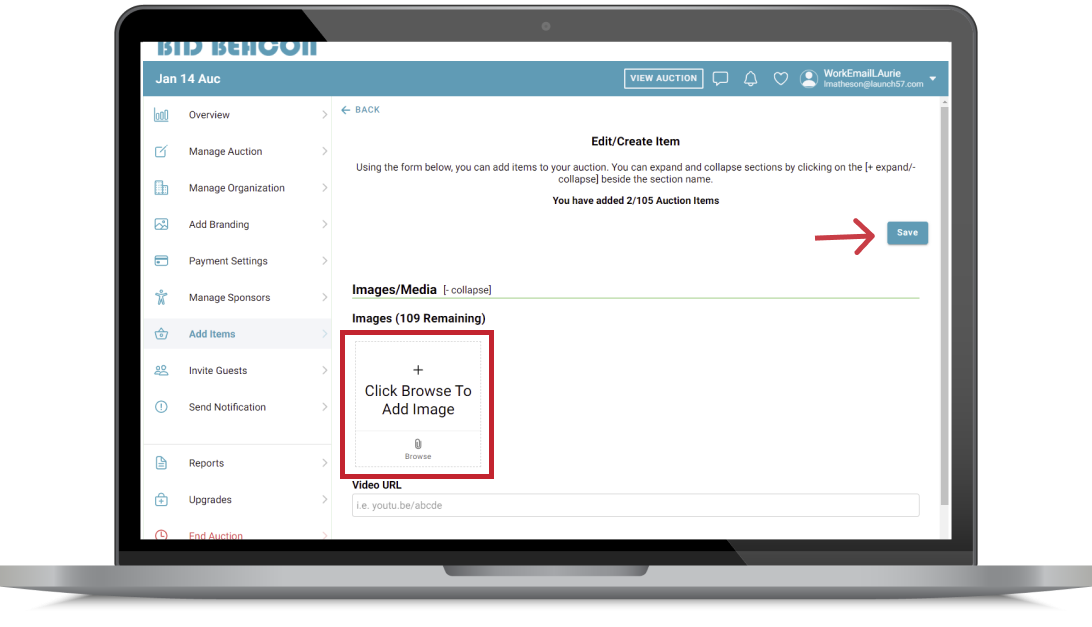 Type an Item Name *mandatory field
Add Lot number
Add Item Description
Choose from Item Type dropdown
Bid Item

(default) – an item people bid on incrementally, highest bidder at the end wins

Blind Bid – users put their best bid forward and don't know what others have bid. No one knows who will win until the end
Buy It Now – sell items for a set price, used for things like tickets or merchandise where you have multiples to sell
Donation – no item at all, this is just a straight donation from the bidder to your organization. Donations are exempt from sales tax.
Live Item – a preview of items that will be auctioned live – bidding and payment occurs outside the app
Enter Starting Bid ($): We recommend to start the bid at approximately 40% of the item's retail value
Optional: Enter Item Reserve ($): Setting a reserve will prevent an item from being won if the highest bid does not surpass the reserve amount
Enter Increment ($): the minimum amount bidders must increase the bid by
Enter Approximate Value ($): showcases the item value to your guests
Additional Information: 
Paste an Information URL
Enter any Notes about the item: text entered here does not appear on auction site, for internal use only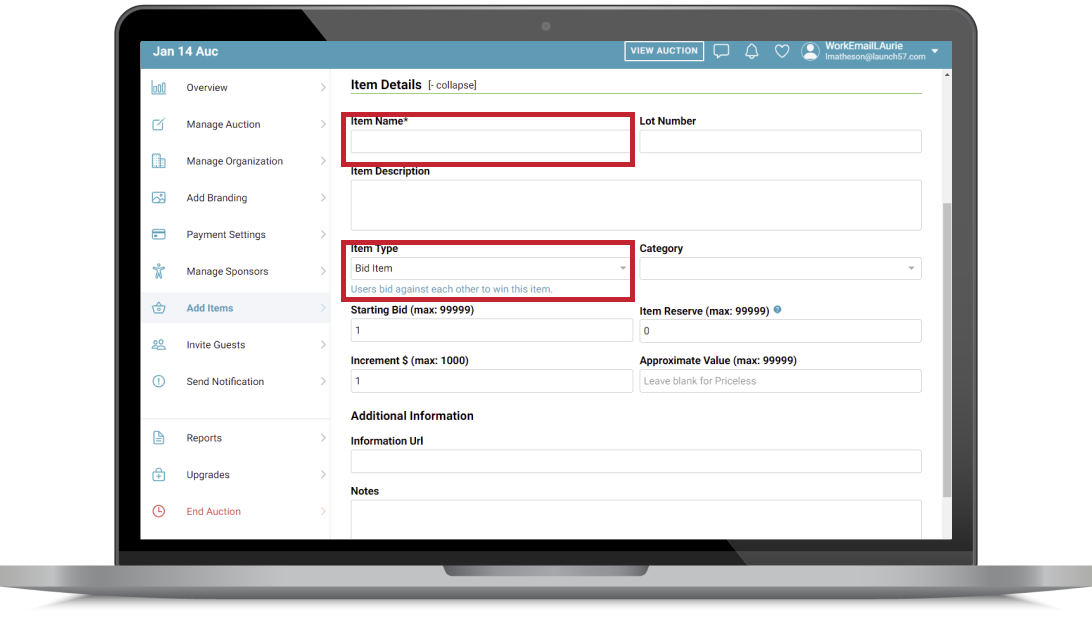 If you wish to recognize the person or business that donated the item, you can fill in these fields
Enter Donated By
Click Browse to find and upload an image of the donor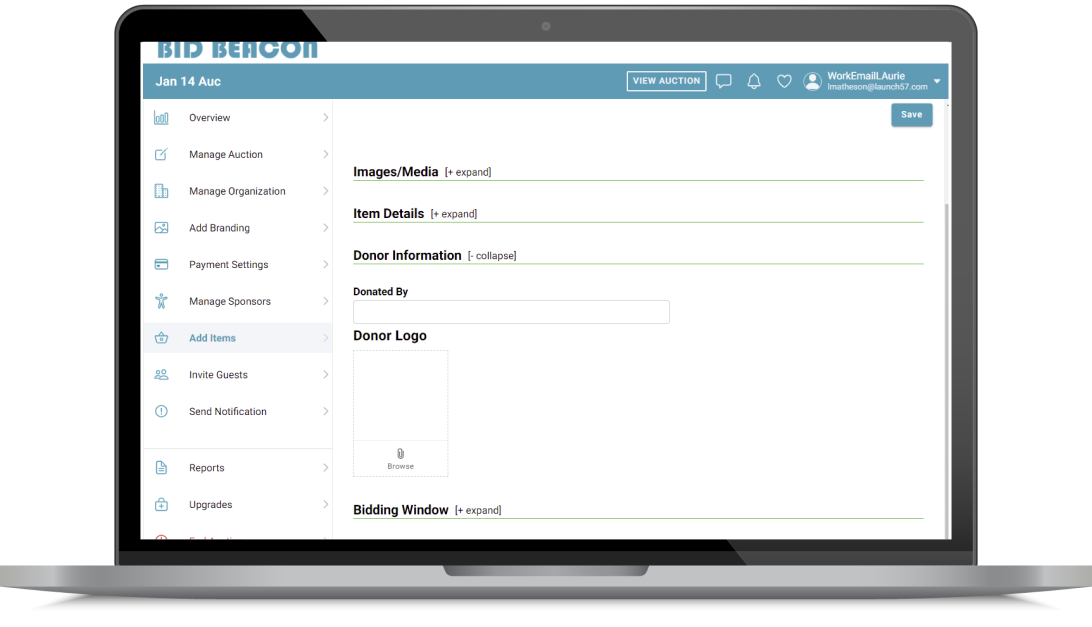 If fields in this section are not set by auction admins, the default is the auction start and end times
Check Hide Until Bidding Opens if you don't want guests to be able to see items before the auction starts
Check Custom Bidding Period if you want the item to start and/or end at a date or time that differs from the Auction start/end times
Check Bidding Extensions if you want the item to extend if a bid has been placed within the last 30 seconds of the auction.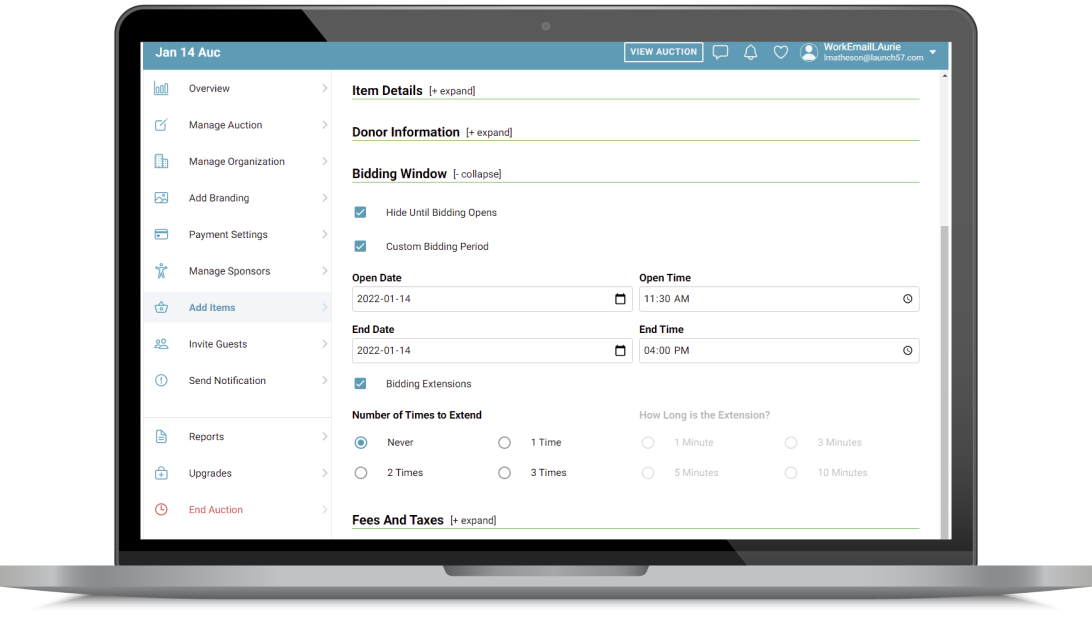 If you wish to add a surcharge or collect taxes on your items, these buttons will take you to the payment setup screen where you can set the amounts.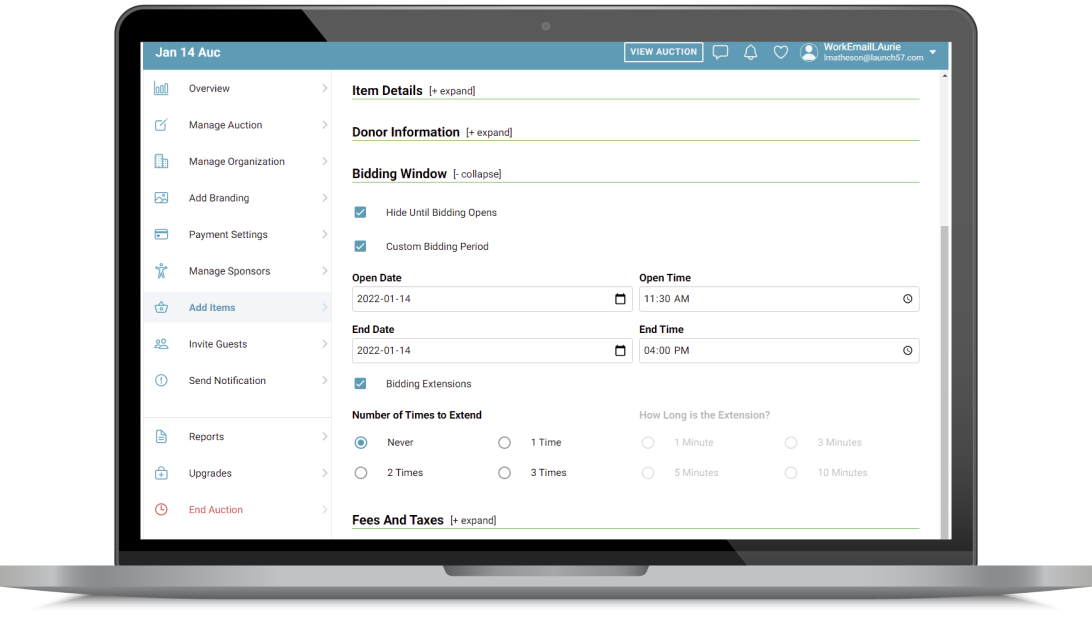 If using the same items from a previous auction, you can copy them into your new auction.
Click Copy Past Items
Click on Select Past Auction to view your previous auctions
Choose the auction you wish to import items from *you can scroll this menu if you don't see the auction you are looking for
Check off the items to be imported
Pending Items Copy
          Click Yes if you are done selecting items and want to copy them now
          Click No to cancel
Copied items will include information from Images/Media, Item Details and Donor Information.   
Copied items will exclude anything previously in Bidding period or Fees and Taxes so be sure to edit these as needed afterwards