Click here to download a simple PDF on joining & bidding in an auction. A more in depth guide is available below and linked in the app as well.
Bid Beacon is a mobile application for online auctions, that can be downloaded from the App and Google Play Stores. You can also use Bid Beacon from any other device through a web browser, such as a computer, tablet, or the browser on your phone!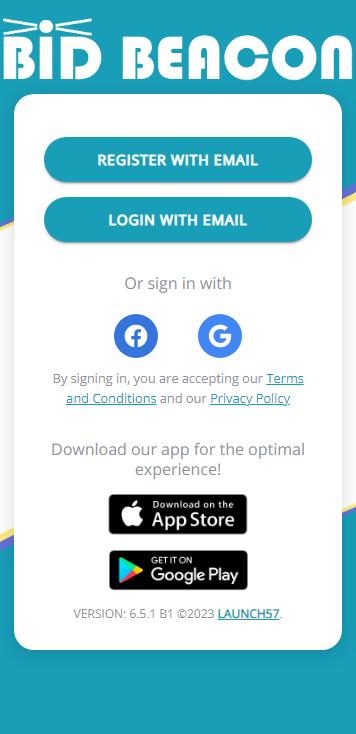 You can preview the auction details and look at items without a Bid Beacon Account. Here are some of the ways you can access an auction:
Receive a link by email

 

Scan an auction's QR Code with your device's camera

 

By typing in the

auction's

Access Code
When you are ready to bid, you will need to create and log in to your Bid Beacon Account. If you are previewing an auction, there will be a Login button available at the top right of the screen.
In some auctions, you will be required to save your payment method to the auction before you can place your first bid. When that notice appears, if you are the winner, you will be automatically charged when either the item(s) or auction ends. If you card fails, you will have the option to try it again or reach out to the admin to pay another way.
About Payments & Security:
All payments are processed through PCI compliant payment providers. Depending on the auction, payments may be handled through Stripe, Square, or PayPal. No credit card information or payments are stored on Bid Beacon servers
There are three ways to bid on items:
         

Quick Bid

– This will bid at the next increment for the item instantly.

         Set Max Bid – This optional setting will allow you to set your maximum on an item, and the system will bid for you at the minimum increment. If you get outbid and the next minimum bid is greater than your maximum, the system will stop bidding on your behalf, and you will be notified.

*Note, if another bidder also sets a max bid, the bids could come very quickly, so be prepared! 

**Admins may disable Max Bidding so you may not see it available in your auction 

Custom Amount – You can type in a custom bid increment of your choosing (but not less than the minimum increment set b

y

the auction host

).
Accidentally bid on an item? Auction admins can remove your bid if you send a message using the chat bubble on the item's page.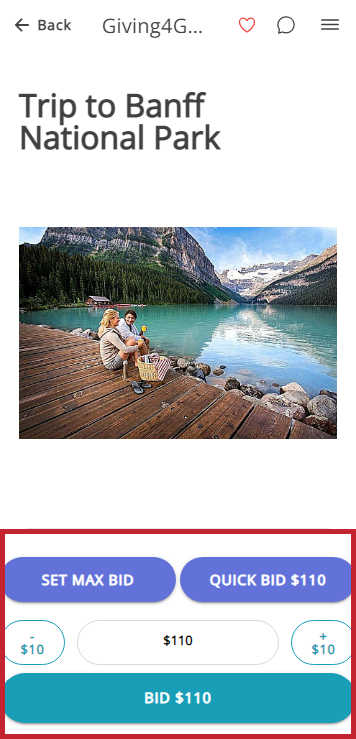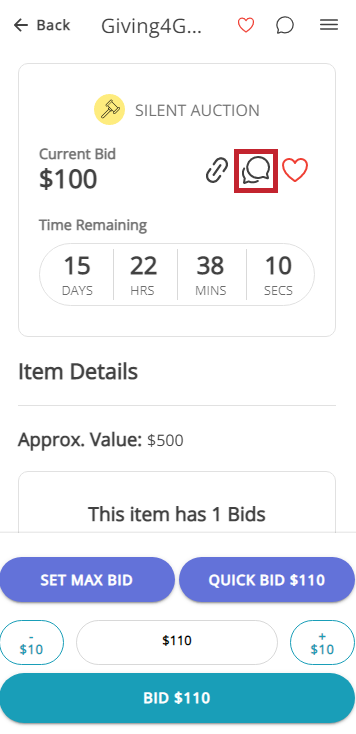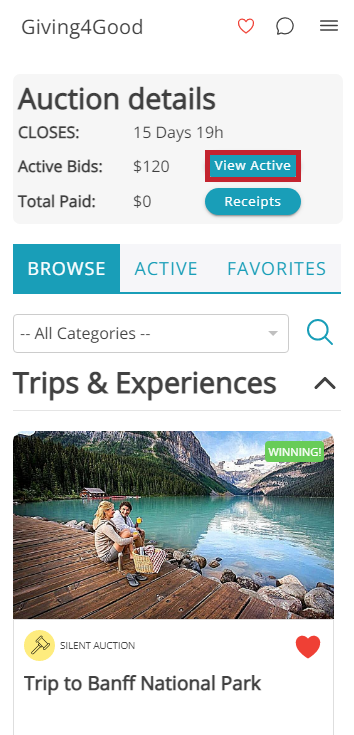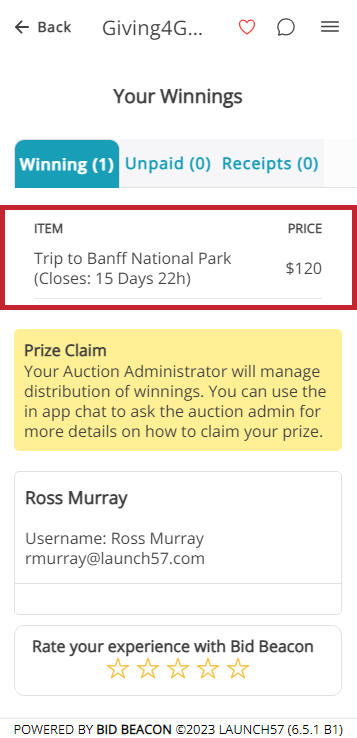 As you place a bid on an item, your Active Bids total will increase. This total will decrease when you either win the item or are outbid. Click View Active to see your current winnings.
If you end up winning one or more items, they will move under the Unpaid tab. Depending on the auction, you may be able to pay online through Bid Beacon which will be done from this tab. If payment is taken offline, the admin will mark your item(s) as paid within the app.
Upon winning, you will also receive an email and notification with the details of what you won. Admins can provide payment and pickup instructions which will be shared in the auction FAQ and in this email to you.
Invoices, Receipts and Prize Claim Instructions are available from the Your Winnings screen.