Here's a step-by-step guide on how to register for Bid Beacon and create an auction!
Step 1 - Register and Login
You can access Bid Beacon either as a mobile app downloaded from app stores, or as a web version that runs in your browser.
This convenient link will take you to the app based on whatever platform you are currently on: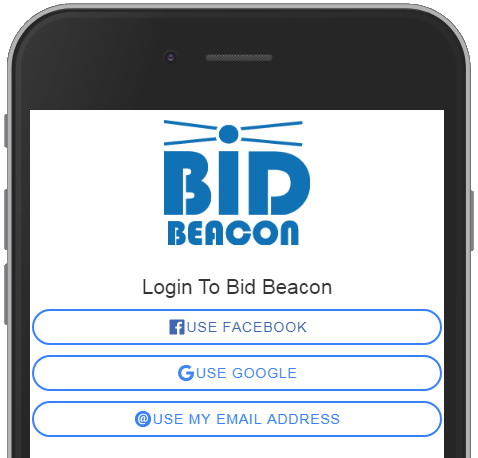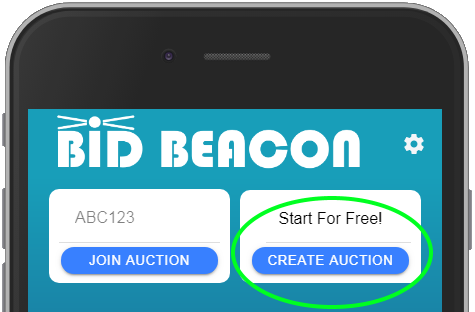 Click the 'CREATE AUCTION' button on the home screen, and follow the wizard for auction setup. All you really need to enter is the Name and ensure the Start and End date/time are correct.
On the step labeled 'Dynamic End Time' there is a fair bit of text to explain what it is. The default is a hard stop to your auction at the end time, but by having the auction extend at least once for 5 minutes if bidding is still active right before the end time, you can definitely get more revenue from your auction!
Step 3 - Auction Add-Ons & Inviting Users
These steps can be skipped for now if you like, and you can always get to these features from the side menu. This way, you can scale up your auction as needed.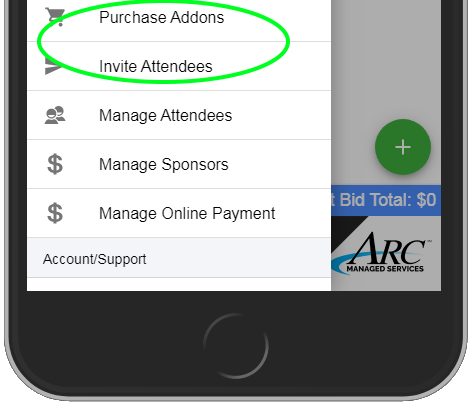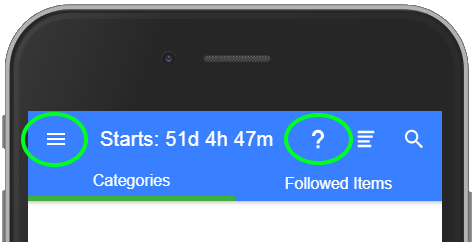 Once you've created your auction, you can open the side menu to get to more functionality. Click the question mark at the top right to get your auction's invite code, links to the invite page, auction overview page (to share on a big screen at the event), and QR code.
Step 5 - Add Auction Items
Once you've created your auction, you'll be presented with a blank page. At the bottom you'll find the green 'Add Item' button. Click this to add items to your auction at any time.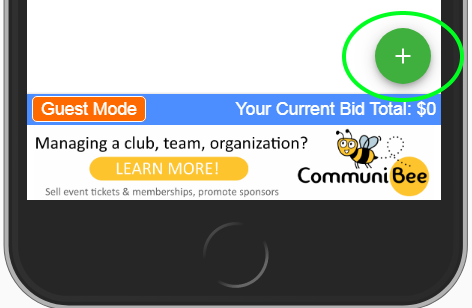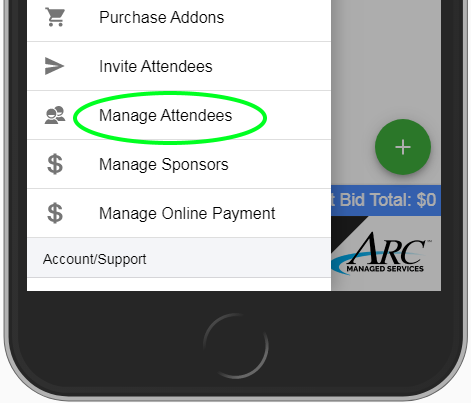 Invite colleagues and then use 'Manage Attendees' from the side menu to upgrade them to Admins so they can help you load items.
Create items in our desktop version where it's easier to type, then come back to them in your device to add pictures!
Step 7 - Invite Attendees & Scale Up Your Auction
When you are ready to invite guests or scale up your auction, use the side menu options to do so.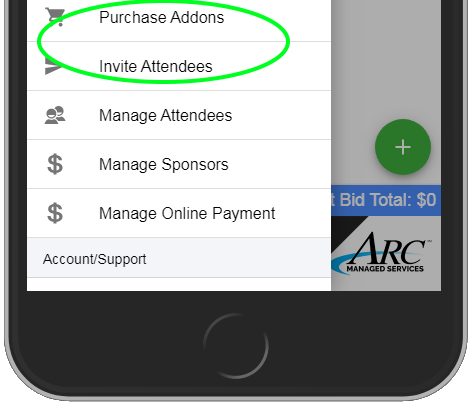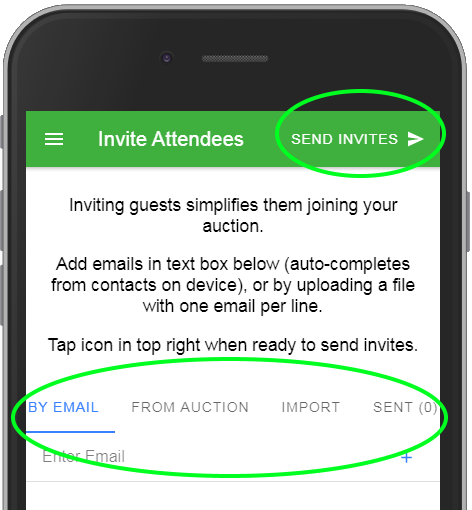 There are a couple of ways to inviting guests:
Inviting through the app – this makes it easiest for guests to get into the auction. They are invited by email address, and are sent an email with details on how to get into the app. Email addresses can be added one at a time, from a contact list, from a previous auction, or imported from a text file with one email address per line.
Sharing the invite link from the Auction Info page (remember the '?' button mentioned above?)
Simply sharing the invite code for people to enter (also found on the Auction Info page)
When inviting through the app, add your email addresses using one of the methods in the second circle, then click the 'Send Invites' button at the top.
NOTE: the QR code on the Auction Info page just encodes the invite code, and needs to be scanned from inside the app.
If you want a QR code users can use to get access to the app, this one on the right will take them to the appropriate app store: