Here's a step-by-step guide on how to register for Bid Beacon and create an auction!
Important!
Admin functionality is not available in the downloaded app. You must access Bid Beacon via web browser on any device to edit, create or manage your auction.
Step 1 - Register and Login
You can access Bid Beacon either as a mobile app downloaded from the App Store, and Google Play Store, or from the web.
This convenient link will take you to the app based on whatever platform you are currently on: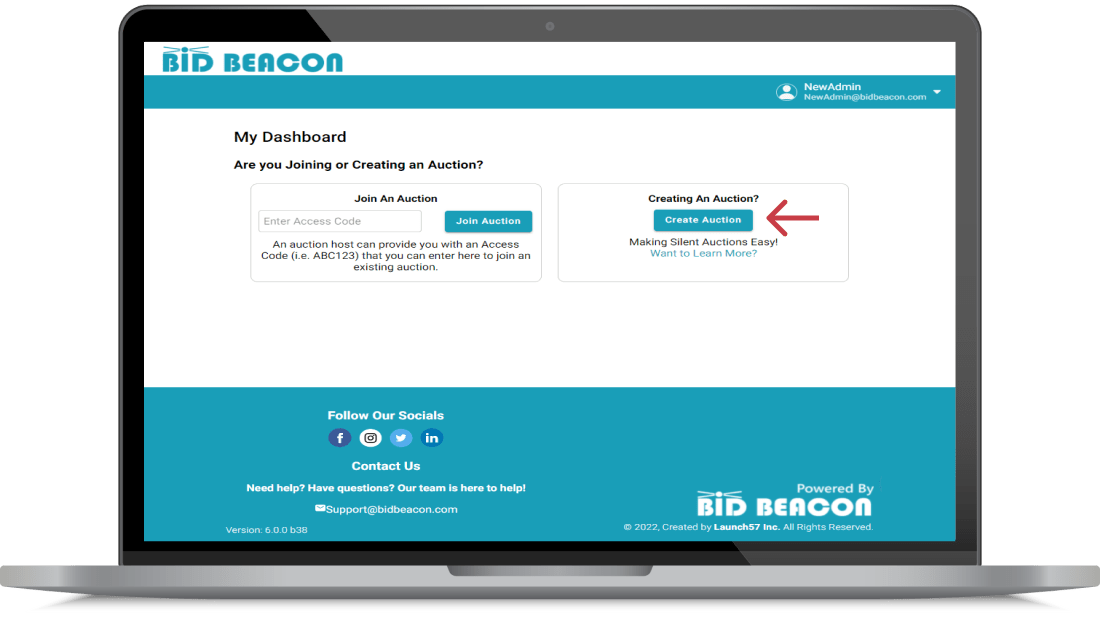 Click the Create Auction button on the home screen. Follow the steps from the setup wizard to create your auction. Check out our article, Creating Your Auction, for more details.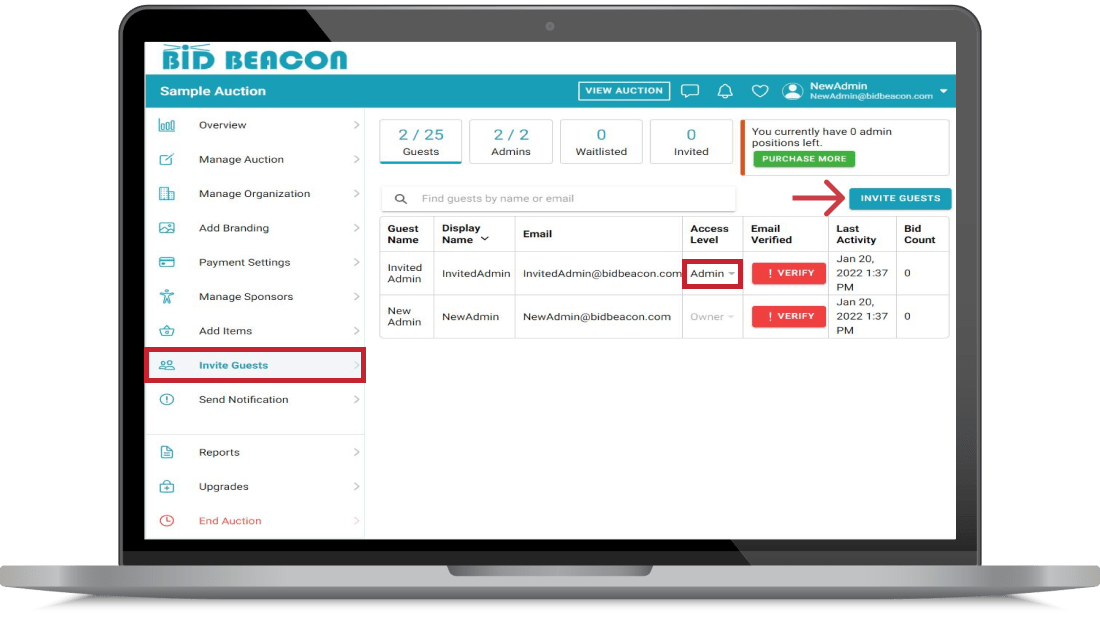 Step 3 - Invite Additional Admins (or Guests)
If, from the setup wizard, you purchased a bundle or the Administrator Role add-on, you can invite one or more admins to help set up your auction!
From the Overview screen, navigate to Invite Guests. Click on the Invite Guests button to send out your invites. 
You may want to wait until your auction is completely set up before inviting any actual guests. To learn all about sending invites to your auction, read the article Invite Your Guests.
Once your admin has joined the auction, go under Access Level and click on the field to expand the dropdown list. From the list, select Admin.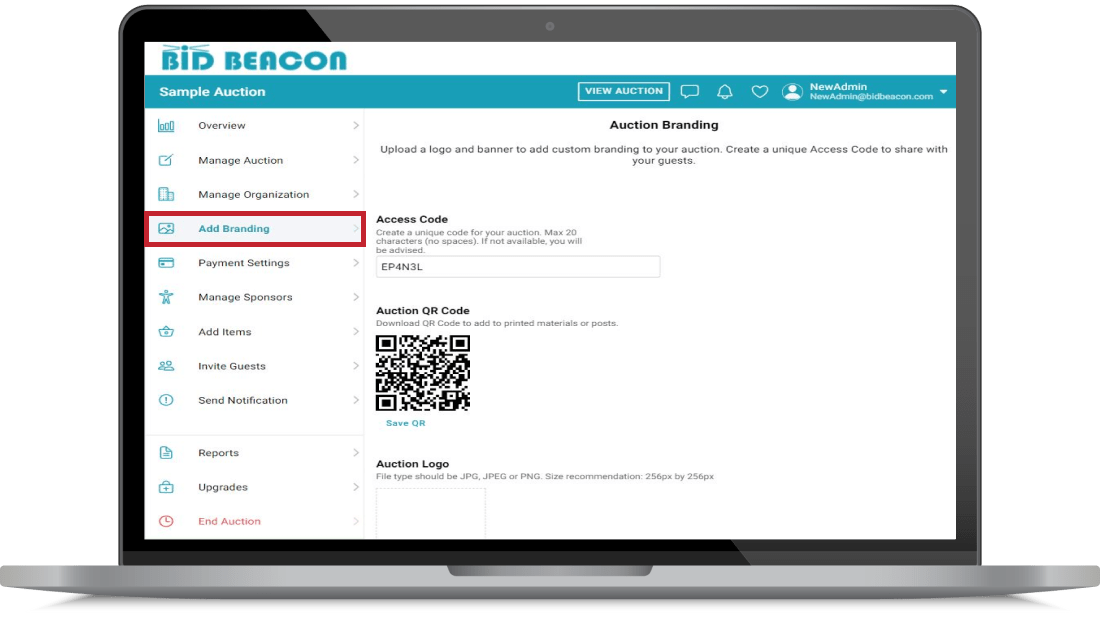 If, from the setup wizard, you purchased an Ultimate bundle or the Custom Branding add-on, click on Add Branding from the Overview screen.
You can upload a logo, banner image, and customize your auction's Access Code.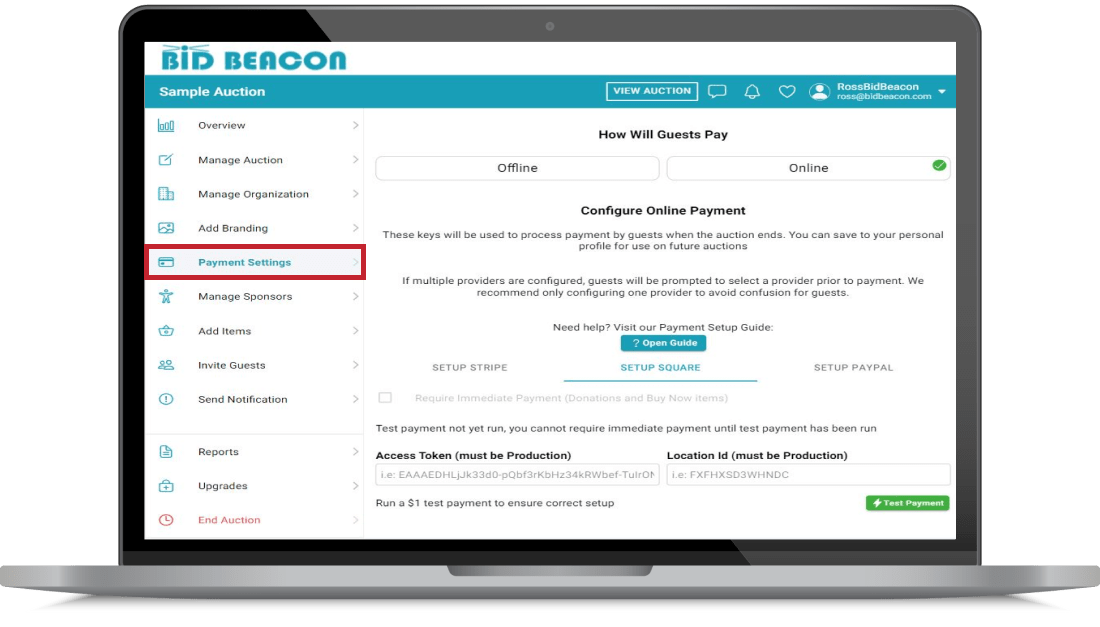 Step 5 - Payment Settings
From the Overview screen, click on Payment Settings to configure how guests will pay. Enter Payment Instructions that will guide guests on how to pay at the end of your auction.
If, from the setup wizard, you purchased any of our bundles, you can enable online payments. For help on setting up online payments, refer to our article on Collecting Payments.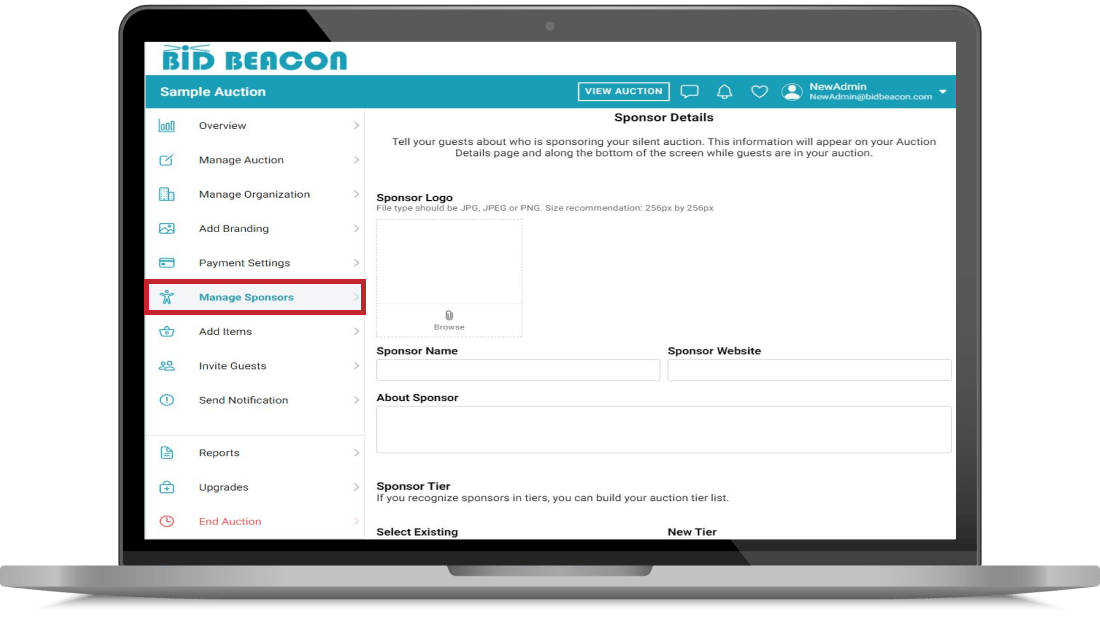 If, from the setup wizard, you purchased a Popular or Ultimate bundle, or the Sponsor Recognition add-on, click on Manage Sponsors from the Overview screen.
You can add any number of sponsors which can include the sponsor's logo, description, and URL link. Additionally, you can create sponsor tiers if you wish to categorize the sponsors of your auction.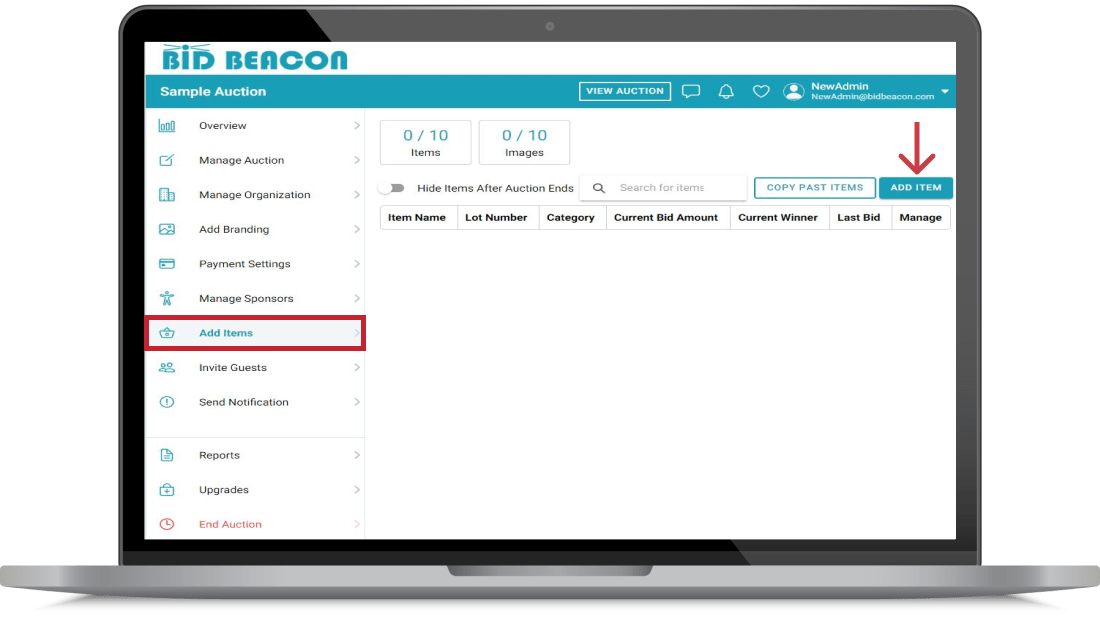 You can't host a silent auction without any items. From the Overview screen, click on Add Items.
From here, we can manage existing items and create new items. Get started by clicking the Add Item button. 
For an in-depth guide on creating an item, check out the article Add Your Items.
*All prices shown are in CAD
At any point, you can scale up your auction as needed. From the Overview screen, click on Upgrades. 
Navigate here if, for example, you find you're running low on items, or you're about to reach your guest limit, or simply want to add additional features. All purchases will be instantly applied to your current auction.
Click on Add To Cart and then a Buy button will appear at the bottom of your screen to checkout.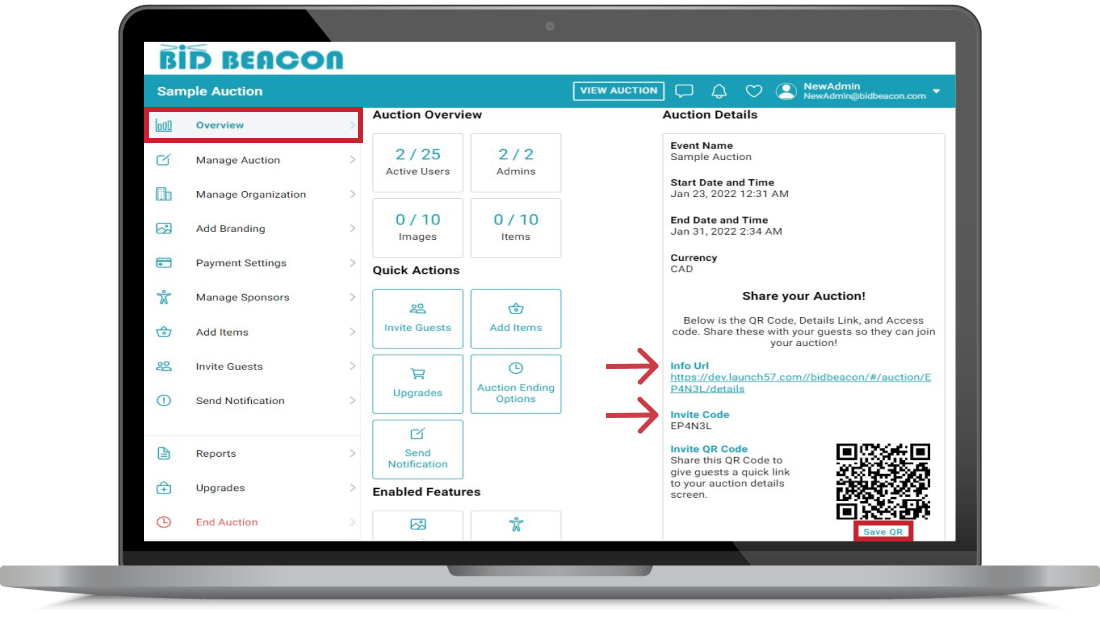 *All prices shown are in CAD
Step 9 - Share Your Auction
In addition to directly inviting your guests, be sure to share and promote your auction. On the Overview screen, navigate to the Share Your Auction! section.
Share the Info URL across your social channels or email lists to send guests directly to your Auction Details page.
If your guests are familiar with the Bid Beacon app, sharing the Invite Code is another way to quickly join your auction.
Click Save QR to download your auction's QR code which can then be shared online, added to printed materials, or placed around your venue.