For quicker set up, it is recommended to use two browser tabs.
In one internet browser open Bid Beacon and navigate to Manage Auction
Navigate to Payment Settings in left side menu
Under 

How Will Guests Pay

, click 

Online

Below 

Configure Online Payment, 

select 

SETUP PAYPAL
In a second internet tab, log in to the PayPal Developer Dashboard (this is not your usual sign in link), or create a new Paypal Business account then log in through the link provided above.  
Under My apps & credentials, toggle from Sandbox to Live to ensure you aren't using test keys
Click Create App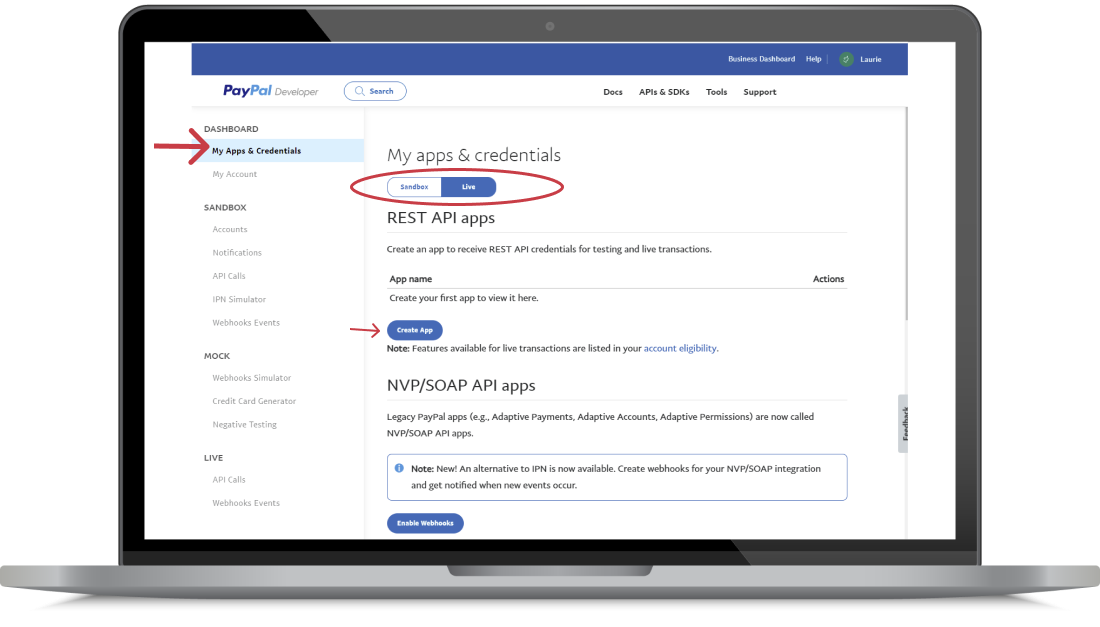 Type in an app name such as "Bid Beacon Auction" and click Create App
Copy the Client ID
Return to the Bid Beacon tab to paste this key into the PayPal Client ID field 
Return to the PayPal tab and click Show under Secret and a new section will appear below
Copy the series of letters and numbers populated under the Secret heading
Return to your Bid Beacon tab and paste this key into the PayPal Secret Key field
Scroll to the bottom of the Bid Beacon tab and Save
Click the Test Payment button. Note that you will be using a real credit card to test a $1 payment. Once completed, a successful payment message will appear. *you can skip logging in and just test with credit card
Return to the PayPal tab and log out of the developers dashboard
Log in to your standard dashboard using this link: PayPal Log in
View your recent activity. The $1 payment (minus PayPal's processing fee) should appear within minutes. This is where you can review and manage payments made by your guests going forward.